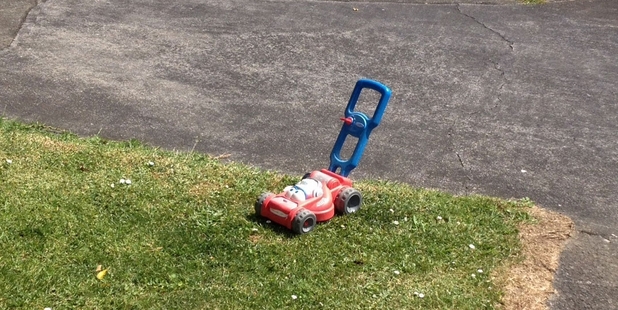 The issue of berm mowing is reaching everyone. Seen on Glendhu Rd, Bayview, North Shore this week.
Scooter scammer needs a lesson
A reader writes: "There is a young teenage boy (who looks like he should be in school) riding a scooter in the carpark at Pak'n Save Mt Albert. He is politely asking people for money for the bus to Swanson as he 'can't get home'. I obliged with $3.60 and then thought I'd just have a look to see where he went after he pocketed my money. Sure enough - he had scooted into the underground carpark and was spinning the same story to another woman. On checking with the supermarket he is apparently known to them and has been officially banned from the premises. Pity they can't get him back into school so that he could learn something more than lying and cheating."
Surreal spams worth closer look
A reader writes: "Spam emails can be so entertaining and poetic/surreal sometimes.
Instead of instantly deleting them more people should read them first. Someone somewhere worked hard on their prose, they deserve a little bit of attention. I once received a spam email that started like this: 'I am a Murder Agent, am from Kuwait and I've no other job than to kill to survive ... You have been betrayed by someone very, very close to you. He paid me to kill you and I don't know what you did to him and I don't care to know ... but the person wants you dead and right now your life is in your own hands ... You have just 6 days to live after that me and my men shall come for your life.' And it went on in the same charming tone."
Praise be, there was no 'E'
"Driving along Pakuranga Highway on Saturday we passed a car with the personalised plate 'HYMN'. My daughter squeals in shock, 'Why would anybody do that?!' I do a double-take - have I really raised her to be so intolerant of religion? As it turns out she'd been studying the reproductive system and thought it translated to HYMEN. Grief!"