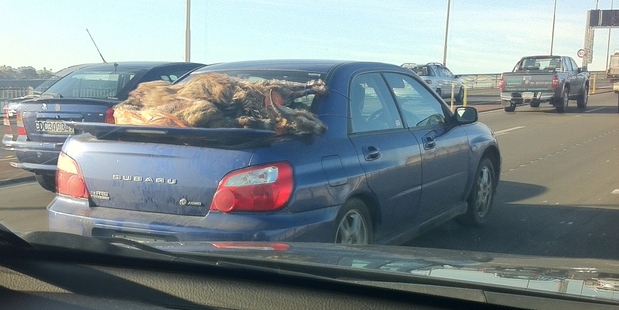 Coming over the Auckland Harbour Bridge, Marc snapped this. "The driver looked well pleased so had obviously had a good hunt, with two goats strapped to the back of his Subaru."
Stressed mum saved from the blues
A mother writes: "I have a 15-year-old severely autistic son who for the past few months refused to get his hair cut, the last attempt ending in disaster ... The other day he asked for blue spray-on hair colour, the type you buy at $2 shops. I said to him, 'Mum will buy you blue hair colour if you get a hair cut'. (I keep sentences short as he has limited understanding.) He agreed. Great. All went well and he got his blue hair. What wasn't so great was that he decided to spray-paint one side of our brick house with the blue hair colour. It doesn't wash/scrub off. His artwork was on a very large scale and also covered wooden fencing. For good measure he used some other colours around other fencing and doors. Desperate, I called Graffiti Guard and explained the situation and the manager said he'd send someone out the following day. When I asked about the charge they said this one was on them. Having special needs children can be tough at times, but truly kind-hearted people such as the one who runs this company make the life of people like me so much easier. So a very big thank-you to Graffiti Guard from a previously stressed-out mum.
Incredible graft ...
Sandra Simpson, the garden writer for the Bay of Plenty Times, writes: "On September 20 I featured the new Potato Tom release by Katikati company incredible edibles. The plant has been in development for about four years and the company thought it was a world-first in terms of a commercial release, although were unaware until about a week ago that the plant in England was also being released. Potatoes and tomatoes are members of the same family so this is all about grafting, not breeding. Incredible edibles say that it's not a new idea, but it is the first time it's been available in garden centres in New Zealand. Gardener's Delight cherry tomatoes on top and agria potatoes on the bottom."
... proves popular
Jo Coles from Napier has already bought hers: "We got ours last week. It's an incredible edibles brand, Potato Tom, and is described as a vigorous, upright Gardener's Delight tomato grafted on to the agria potato. Yields both sweet cherry tomatoes and delicious agria potatoes. Can't wait to see how they grow."
Picture this: Awkward stock photos...
Banana Karma: "Anyone who has spent any time at all racing knows, bananas on board is a HUGE no-no. This totally explains what happened to TNZ " writes a commenter on Sailing Anarchy forum. Read about the superstition here.
Music: Lorde didn't approve of Selena Gomez's cover of her hit song Royals, but maybe crooner Mayer Hawthorne's soulful version will get the thumbs up...
Picture this: Competition for the Sharpie marker market...
Video: You're a troll...
Got a Sideswipe? Send your pictures, links and anecdotes to Ana at ana.samways@nzherald.co.nz