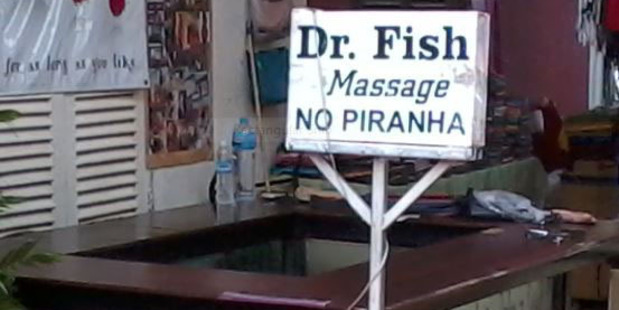 Drunken pig makes a human of itself
A drunk feral pig caused chaos at an Australian campsite and started a fight with a cow. The belligerent porker went on a drunken bender after stealing and drinking three six-packs of beer that had been left out by campers at the DeGrey River campsite in Port Hedland. The animal went on to ransack rubbish bin bags to find some late-night snacks before starting a fight with an innocent eyewitness cow. Following the boarish rampage the pig decided to swim out into the middle of a river before collapsing drunk under a tree and falling asleep. (Source: Independent.co.uk)
Judgment failure
Colin can't believe his eyes: "Takapuna boat ramp, 1.30pm on Monday, September 9. Outgoing tide and strong winds of 24 to 30k, as advised by Coastguard and on radio. This seven-foot 'rubber ducky', loaded with fishing gear and a huge chilly bin. Outboard about 2hp. The two 'snapper trappers' motored off south towards Auckland but got blown north down past Rangitoto Island, last seen heading towards Rakino.
The craft was so small the two occupants had to sit on the sides. I rang Coastguard. They didn't want to know. No wonder people drown."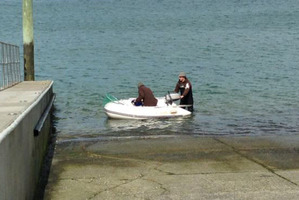 Contact details sold down the river
Questions: (1) "Since subscribing to the Mighty River Power share offer, I'm now inundated daily with Spam adverts to invest in a variety of stock market offers," writes Alan. "Who sold my details to the spammers?" (2) Ben writes: "David Cunliffe's campaign motto, 'Ready now' ... Is he running for Labour leadership or just keen to taxi downtown for a kebab after a few jars?"
Gimme some skin, bro
Shaun Manderson saw this in Siem Reap, Cambodia. "You sit on the seat around the fish tank and the little fish nibble the dead skin off your feet, just what you need after a long day looking at Angkor Wat apparently. Nice to know you get your toes back."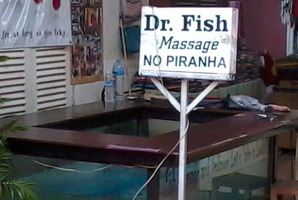 Desperately seeking surfers: John Clark has taken these great action shots of surfers at sunset at Orewa on Tuesday 9th September. A father and son, and older guy, and this paddle boarder. "They were all a good few hundred metres North of the Orewa surf club. I would really like to make contact with these guys so I can give these photos to them. I'm sure they'd love to get these! I can be contacted on 021 1095920."
Picture this: Flipping a photo of bats hanging upside down and they look like they're having a wicked dance-battle.
Local: "Auckland just made #10 in the Independent's list of the top 10 cities in the world," writes Graeme Ramsay. " But, as they're calling Auckland the capital of the North Island you've got to wonder how much care they've taken with creating the list."
Video: What would the trailer for Monty Python and the Holy Grail look like if it was released in 2013? Like every other epic blockbuster that's made in the sausage factory...
Got a Sideswipe? Send your pictures, links and anecdotes to Ana at ana.samways@nzherald.co.nz