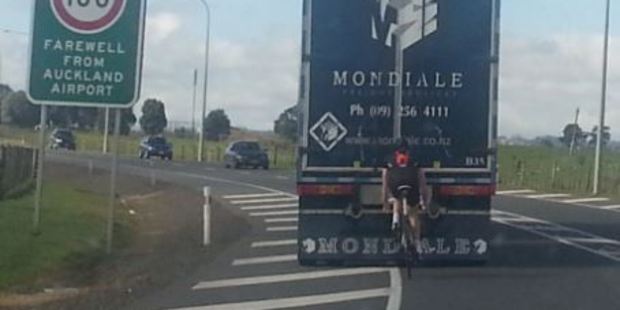 George writes: "A crazy cyclist on the airport motorway at lunchtime last week. Cyclist up truck's rear, going 100km/h. And they say motorists should be careful."
What's in a plate name?
David Major says: "In Ponsonby a couple of years back, I was following a nice-looking older Indian woman. After looking at her licence plate, I had to consult one of my Indian mates, who informed me that Naz was an abbreviation of a popular and much longer Indian name. I would assume that the plate NAZ was already taken, so she had chosen to border her name with the letter 'I' on either side of her name. For a while I had some serious suspicions about this woman's possible affiliations with the Third Reich ..."
Motoring through the meals, courtesy of Toyota
In 2011, Toyota offered to donate their celebrated business management process to the Food Bank for New York City. After some initial scepticism, the donation has "proved transformative". Director Daryl Foriest presented the company with a challenge.
"The line of people waiting to eat is too long. Make the line shorter." Toyota's engineers went to work. The kitchen seated 50, and when all the chairs filled, a line would form outside. Foriest waited for space to let 10 people in. The average wait time could be up to 1 hours. Toyota eliminated the 10-at-a-time system, and diners came in as soon as a chair was free. Next, a waiting area was set up inside where people lined up closer to where they would pick up food trays. Finally, an employee was assigned to spot empty seats so they could be filled quickly. The average wait time dropped to 18 minutes and more people were fed. (Via Kottle.org)
Mobil keeps mum on price
Murray Hunter writes: "Has commerce pre-empted our spy bill? I rang the Mobil in Mt Wellington to check if the petrol price had increased since I passed the service station on Tuesday. Company rules prevent them telling me the price of petrol or even if it was unchanged since Tuesday. Yet the price is on a huge sign outside, so it's no secret if you pass on the road. So I rang Mobil in nearby Panmure to ask their price. Same answer: not allowed to tell me. Secrecy gone mad!"
Grandma Holden her own
Sandra Farrell, of Pakuranga, writes: "Calling in to an address in Golflands, Howick, to collect a Trade Me purchase, I pulled my Holden Calais up beside some mean-looking Fords. There in the garage were 'The Blokes' having their Friday night meeting, obviously about the virtues of their Fords. First words to me: 'What's that you're driving?' A convivial discussion followed with me, of course, holding my head up high re my Holden. Lively bunch who wanted to retain Fordmanship farewelled me with, 'Goodbye Sheila!' Got the 'S' right, which is a good start. I feel for Westie-style petrolheads. Oh, I'm not a cop, taxi driver or have a moustache (at the last look anyway). I am just a 65-year-young grandma who loves cars too."
Shit Cosmo Says: The most absurd things Cosmopolitan magazine has told women to do ...
Good read: Palm reading is so popular in Japan people are now going under the knife to surgically chance their fate ...
Video: This is what will happen if the passengers actually questioned the in-flight electronics policy ... (NSFW, a bit sweary)
Video: Classic news bloopers from 2007 ...
Got a Sideswipe? Send your pictures, links and anecdotes to Ana at ana.samways@nzherald.co.nz