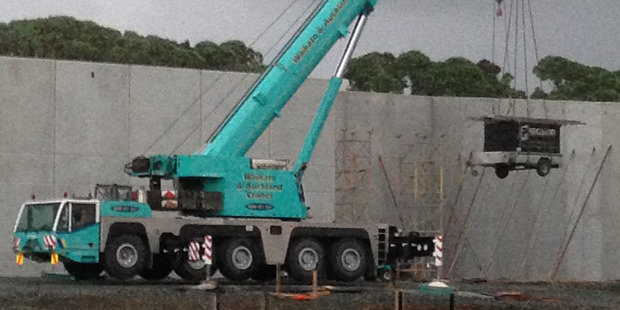 How to make sure no one pinches your trailer? Must have crane and a sense of humour, seen in East Tamaki by Royce.
Feline protection
From a listing for a luminous Led cat collar on Trade Me: "We brought these to keep our cat safe at night from being run over, seems to have worked - he's still alive. I have also been told they make it harder for cats to catch birds as the light puts them off.
"This is unproven from me, however, as our cat has the hunting ability of a bowling ball."
Caught in a trap
How to dispose of a mouse: "A while back I caught a mouse in my kitchen. It was just sitting on the worktop staring at me when I turned on the light, probably a bit too surprised to move and hoping I'd just go away. What could I do with it? Throw it outside? Then it would just come back in. No, I needed a humane way to kill it. I could have just left it in a jar with the lid screwed down until it suffocated but that seemed a bit cruel. I know, car exhaust. Right, let's start my car. Battery flat after sitting there for weeks.
Right, let's try my girlfriend's car. No, I can't find the keys and they're probably in the bedroom. Let's not wake her up with a mouse in a jar, eh? Okay, and the van is diesel which has non-toxic exhaust fumes. So that is how I came to be standing in the back garden at 3am in my underwear trying to kick-start a recalcitrant motorbike, to provide some carbon monoxide to do away with a mouse that had probably already died of boredom." (Source: b3ta.com)
Another rude encounter with horseman
A reader reckons the text conversation about the horse riding lessons sounds very much like the same rude chap she met a couple of months ago. "When I told him after one very uncomfortable ride (I wouldn't call it a lesson) that I wouldn't be continuing, he sent me a text to say the best thing I could do for any horse I rode was to lose that stuff around my girth.
"He also made salacious comments during the short ride and kept mentioning women he had met on dating sites. Very unpleasant."
Car plate confusion
Misconstrued plate: "A car used to be parked in our street with the plate OVARYD," writes a reader. "For a long time, because of context, I believed it read "ovaried" ... which I thought strange - at the very least feminist and boastful. I even considered getting my own plate, perhaps TSTCLD. Then a neighbour enlightened me that it was a bit souped up and was "over-ride".
Picture this #1: Shannon writes: "Found in my local grocery store, I grabbed this packet of Alligator meat thinking perhaps that might be something new to try, upon discovering that it was 'Wild caught in New Zealand' the meat started to appear a little questionable."
Picture this #2: Naked ladies at church?...
GCSB Bill Roundup: 1) If you thought the hubbub generated about changes to the Snapper fishing quota was a timely distraction from the GCSB bill, the PM's spiel here kinda confirms it.
2) And if you have been meaning to find out why you should care, watch this....
3) Or if that was more in-depth broadcast current affairs than you're used to these days, Russell Brown has a well-thought out, concise comment you can read here...
4) Or if you want quick summation there's this just for laughs.
Video: Ninja golf swing...


Got a Sideswipe? Send your pictures, links and anecdotes to Ana at ana.samways@nzherald.co.nz.