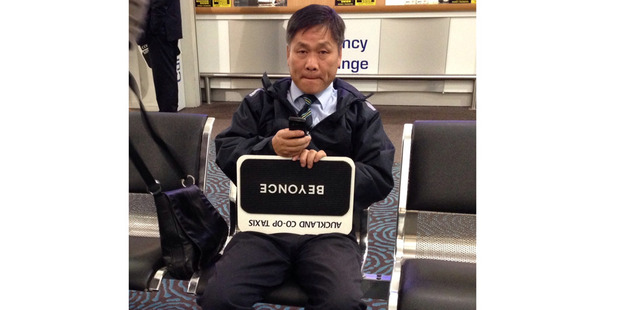 "This taxi driver, spotted on Friday evening at the airport, didn't look very excited about his celebrity pick-up," writes Pamela Wade.
Russian's revenge on bank fees
Dmitry Argarkov of Voronezh, Russia, received a credit card offer from a bank. He didn't like the terms in the contract, so he wrote up his own and sent it to the bank. The bank did not bother to read the small print and accepted it. Argarkov's version of the contract contained a 0 per cent interest rate, no fees and no credit limit.When the bank failed to comply with the rules, he would fine them 3 million rubles (NZD$113,000). If the bank tried to cancel the contract, it would have to pay him 6 million rubles. When Argarkov went into debt and the bank tried to call in its fees, they ended up in court because Argarkov did not consider himself liable. And a judge agreed - Argarkov is only liable for the outstanding balance, not the bank fees. Next, Argarkov is suing to get the bank to pay him the penalties stated in the contract. (Source: Neatorama.com)
MP enjoys home support
Radio Live's political reporter Jessica Williams tweets: "Member of audience uses Q&A with Tony Ryall to tell him he's the best local MP/Health Minister ever. His reply: "Thank you, Aunty Margaret."
Sausage sizzle joke leaves bad taste
Nigel Godfrey noted on Facebook that Rawdon Christie on Breakfast on Friday, in an unintentional foot-in-mouth moment, suggested that the Muslims featured in the live cross with Sam Wallace, who were running behind him, were not heading to prayers but to a sausage sizzle! "I'm guessing that pork probably isn't featuring on the menu at the meal celebrating the end of Ramadan," he added.
Now, where did I leave those dead bats ...
The discovery of a dead shark under seats on a New York subway train is just one of a vast array of oddities found on public transport networks. Britons have also left an array of the unusual and surreal over the years, many of which remain unclaimed in lost property offices. Transport for London and the Association of Train Operating Companies have listed a cat, human skulls in a bag, a German officer's cap, a stuffed pufferfish, a jar of bull's sperm, three dead bats, a prosthetic arm, a bishop's crook, a 1.2m-tall Mickey Mouse and an outboard motor.
Worryingly familiar
A reader writes: "I was in the lounge ironing one day when a movement in the corner of my eye caught my attention. I looked up and caught a glimpse of my mother walking up the drive. I started to walk to the front door to let her in, and realised ... it was my own reflection in the window. The mental scar still lingers."
Picture this: "Popped into the hello kitty cafe with two 5-year-olds en route to hockey practice," writes a reader. "Check out number 5 on the menu!"
TradeMe Goodness: This plate could be a hard sell...cause 8 year-old boys don't drive...
And this one goes for some not-so-subtle, grubby, double entendre...
Good read: Jenny McCarthy, who was an outspoken voice in the vaccinations cause autism myth, is endorsing an e-cigarette brand...
Video: Australian hard right political party One Nation, made famous by Pauline Hansen and its white Australian jingoism, has a new poster girl for ignorance....
Got a Sideswipe? Send your pictures, links and anecdotes to Ana at ana.samways@nzherald.co.nz.