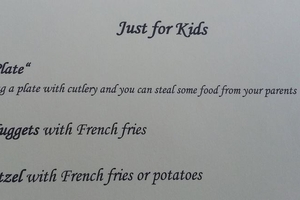 Facing up to reality
"They say that as we grow older our self-image becomes rather more attractive - younger, fitter, taller - than the reality others see," writes David. "I had found a shirt I liked in a fashionable menswear retail outlet and was making my way to the fitting booths. These were on my right, about halfway down the long walkway between the display racks of elegant clothes. When I was a couple of metres from the booths I noticed a little old man in a white hat approaching slowly from the opposite direction. As he came closer I stepped aside to let him pass; whereupon he moved in the same direction, blocking my path. So I stepped the other way - only for the same thing to happen. By this time we were literally face to face. When this ridiculous and by now embarrassingly public dance happened for the third time, not wanting to offend the poor little fellow, I smiled and said, very quietly, 'Er ... this is getting a bit ... difficult, isn't it?' It was at that point that I realised that I was standing right in front of a large floor-to-ceiling mirror. The little old man was me."
Putting the bite on a winner's glow
"BurgerFuel emailed me to say I was a WINNER!" writes David. "I had entered its 'America, Sup? competition', so I knew I was a legit winner. In the notifying email it was talking about headphones so I assumed, 'Cool, I won a set of headphones. Dumb colours, but I won something!' After reading the email, I discovered there was no prize. The 'prize' I won was a discount to buy the headphones. So I didn't actually win anything despite the email saying twice that I was a winner. Even the discount code is crappy; you have to buy one of the old colours Sony is clearing out. It's basically a daily deal ... BurgerFuel's wall poster says $250,000 worth of prizes. So do unredeemed discount codes count as prizes? Cheap!"
Twitter goodness
1) "WE ARE ALL DOOMED, a Play in One Act"
2) Father: "You should read Animal Farm." Son: "Isn't that a Facebook game?" ( Source: Greg Knauss @gknauss)
Washing dishes can be a blast
Carole Longhorn, 66, struck a metal object in her garden in Norfolk, England, in June. Although it looked like a projectile-bomb, she said she decided to take it inside and wash it off in the sink before calling police (who later detonated the World War II-era munition in a controlled explosion). Said her husband later: "You can imagine what I said to her." (Source: News of the Weird)