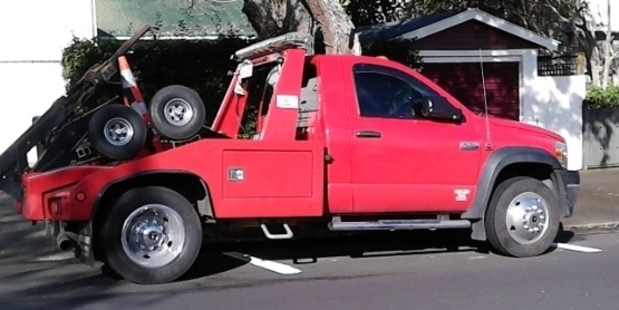 Do unto others
New to the neighbourhood is a tow-truck driver, writes a reader. "Since moving in I reckon he has painted those white lines on the road outside his house himself (they're a bit rough) and he has already had at least one car towed when it couldn't fit entirely within them. Nek minnit ..."
Internet dishes out justice
An Australian man has been banned from his local gym after he covertly captured photos of patrons working out and posted them to his Facebook to mock them. "Here we see the amazing chicken man," the man wrote on Facebook. "His 2 per cent body fat is admired by bodybuilders and bulimic teenage girls alike." Screen grabs of the man's Facebook activity spread on social media and his personal information was tracked down. On Facebook, the photographer wrote that the gym owner got him on the phone, banned him from the premises and the rest of the chain and called him a "piece of shit". One commenter added: 'Let this be a reminder to us all of the destructive power of the internet. It can ruin someone's reputation in a few hours." (Source: Daily Dot)
Nightmarish bedtime stories
What is the best horror story you can come up with in two sentences, asked Reddit.com. These were the two most chilling:
1. "I begin tucking him into bed and he tells me, 'Daddy check for monsters under my bed.' I look underneath for his amusement and see him, another him, under the bed, staring back at me quivering and whispering, 'Daddy there's somebody on my bed'."
2. "I can't move, breathe, speak or hear and it's so dark all the time. If I knew it would be this lonely, I would have been cremated instead."
Icing with danger
To the reader saying the fun police had put up a sign preventing snow play on the side of the Desert Rd, Andrew writes: "I heard that contractors had only cleared enough of the road to enable cars to get through. There wasn't room for cars to park safely at the side of the road. And I'm not sure if kids should be playing right next to where cars are driving at 100km/h in ice and snow. Reminds me of a story my dad told me about a family in the UK getting in trouble for parking and having a picnic on a grass roundabout in the UK in the 1970s."
WT?: "I'm no Masterchef," says Matt Hancock of this web ad he spied, "but I'm pretty sure that's a chicken."
Picture this #1: Your mother is tagging again...
Picture this #2: If you're serving your kids sausages, spuds and mixed veges, you need to lift your game...
Interesting: Are all modern movie posters clichés? Ah, yes it would seem so...
Video: News blooper compilation for July....
Got a Sideswipe? Send your pictures, links and anecdotes to Ana at ana.samways@nzherald.co.nz