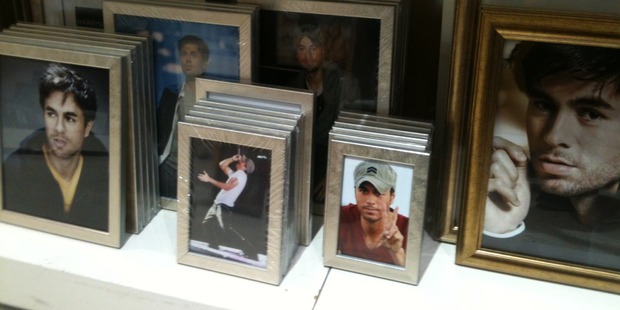 When you visit Hanafins Camera and Video at Westfield mall in Henderson you might notice something out of the ordinary. A picture of swoon-worthy Enrique Iglesias enshrined in virtually every frame in the shop. Manager Kylee Leyton is his biggest fan.
Not saying your goodbyes
Ghosting apparently refers to leaving a social gathering without saying goodbye. Like a ghost. Geddit? Other party goers might wonder where you went, but are mostly unfazed by your departure and it usually happens when you are too drunk to say a proper goodbye or you don't want to interrupt the host and make other guests take it as a cue to leave and thus kill the party. But is it rude to leave without saying goodbye? I think a perky thank-you text the next day is fine. What do you think?
That'll be extra for eftpos, thanks
"Since when do taxis charge two dollars extra for a ride if you want to pay by eftpos?" asks Maree. " ... a seven dollar ride came to nine dollars."
Enough already of the frying
Tourists in America's Death Valley are being asked to stop frying eggs on the road. Visitors to the area which straddles Nevada and California, which is sweltering at the best of times and currently experiencing a heat wave over 50C, are leaving behind a mess of runny eggs, cartons and shells as they look for a photo opportunity. The Huffington Post reports that exasperated officials used the park's Facebook page to urge visitors to keep their experiments in a proper pan, writing "the Death Valley NP maintenance crew has been busy cleaning up eggs cracked directly on the sidewalk, including egg cartons and shells strewn across the parking lot".
Yep, he's a real walkover
News of the Weird Classic: A 48-year-old immigrant from Malta regularly hangs out in various New York City bars, but always on the floor, so he can enjoy his particular passion of being stepped on. "Georgio T." told the New York Times in June (2009) that he has delighted in being stepped on since he was a kid. While one playmate "wanted to be the doctor, [another] wanted to be the carpenter ... I would want to be the carpet." Nowadays, he carries a custom-made rug he can affix to his back (and a sign, Step on Carpet) and may lie face-down for several hours if the bar is busy. (Via New York Times)
A reader writes: Is this a "honey trap" where the council creates a marked parking bay in front of a fire hydrant, thus charging you for parking and can then tow your car away? (Seen in Wolfe St in Central Auckland.)
Found: Paul Henry's Guatemalan doppelgänger
Picture this: Chicken inspired handbag...
Video: A wonderful animated poem by Billy Collins about Forgetfulness. Give it a go. It's short and so sweet.
Got a Sideswipe? Send your pictures, links and anecdotes to Ana at ana.samways@nzherald.co.nz