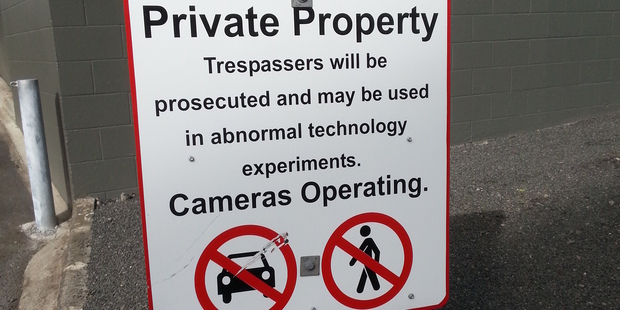 Nelson St, Auckland City, snapped by Sheed.
Snorting over stolen asbestos
A reader writes: "A good friend of mine in the demolition business has done well lately in Christchurch and treated himself to a new family car. Taking the family on a Sunday outing, the workaholic he is, he decided to stop by a demolition site in Auckland to get a couple of samples. While at the movies the new car was broken into but strangely nothing appeared to be missing. Monday morning, at work, the mystery was solved. The samples, two of the smallest zip lock plastic bags available, contained a fine white powder. New samples were collected and yes they did test positive for asbestos!"
Busted to music
A reader writes: "Queuing in a Glen Eden bottle shop the other day I noticed a couple of young men being spoken to by police outside. A staffer explained to the guy in front of me that the pair had been offering to buy booze for underagers, for a fee.
Often on a Friday there is a older dude busking with his electric guitar and amp playing outside and I cracked up as I left watching the cops cuff the young men and the dude starts playing ... 'bad boys whatcha gonna / whatcha gonna do when they come for you'."
Wearing down the poor
Joining the growing list of payday lenders and pawn shops are rent-a-tyre places, from which consumers pay up to four times the cost of buying. When the tyres on their Dodge Caravan had worn so thin that the steel belts were showing through, Don and Florence Cherry couldn't afford to buy a new set. So they decided to rent instead. The North Carolina couple agreed to pay Rent-N-Roll US$54.60 ($69.56) a month for 18 months in exchange for four basic tyres. That works out to $982 in total, almost triple what they would have cost at Wal-Mart. "I know you have to pay a lot more this way," said Florence Cherry, a 57-year-old nurse who drives the 15-year-old van when her husband, a Vietnam veteran, isn't using it to get to his job as a prison guard. "But we didn't really have a choice." (Via Neatorama/LA Times)
Lessons in apple consumption ...
1. The only way to eat an apple is to cut it into quarters, remove the core bits and then eat the quarters off a plate. Not only does it look more delicate but also I am certain the apple tastes better eaten this way.
2. Against the advice of my mother, who told me that if I ate the core of the apple the pips would germinate in my stomach and grow into apple trees, I also - depending on the apple of course - eat the whole apple. My routine is around then top to bottom. I do draw the line at the stalk though.
Nelson St, Auckland City, snapped by Sheed.
Marketing: Most underwhelming enticement...
Bad taste: Rohypnol gag coffee mug (the substance is famously used to subdue targets of sexual assault)
Picture this #1: Classic artworks are digitally placed in rooms without the same aesthetic in Great Art In Ugly Rooms...
Video: Shocking anti-drink driving ads are thankfully a thing of the past for Aotearoa since 'ghost chips' but London's Transport Department hasn't learnt that yet and have made this
Got a Sideswipe? Send your pictures, links and anecdotes to Ana at ana.samways@nzherald.co.nz