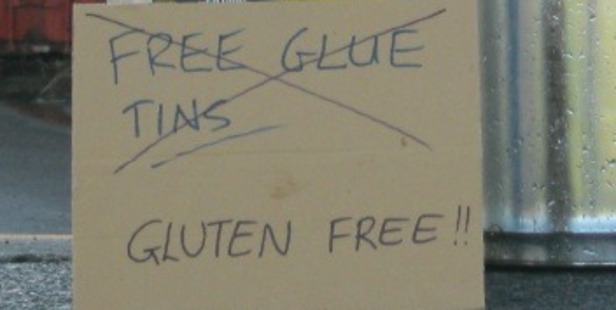 Geddit? "We spotted this sign on the side of the road in Wellsford," says Dale Stewart. Photo / Supplied
Chilling auction
New York's Office of Mental Health is selling a used, but fully operational, morgue refrigerator and the New York Post highlights the rather grisly listing it has posted on eBay. It's a Norlake Scientific 4-Drawer Morgue Refrigerator from a Manhattan psych ward, and the Post helpfully calculates that it can hold 2000 beer cans. "Every once in a while, we get an unusual item - and this would be that," says a spokeswoman for the Office of General Services, which gets rid of state surplus items like police cars and scrap metal. Two caveats, per the ad: "Buyer must dismantle unit to remove from room," and is responsible for cleaning the unit. Bidding was up to $860. (Source: Newser.com)
Ball gown seeks potential belle
Amira writes: "This pretty fuchsia dress belongs to my 17-year-old. She wore it once, last year, to a ball. Since the school ball season is in full swing, I would love it if someone could use this dress. It's a size 10. It's free for whoever wants it with heaps of love from a mum who understands a teenage girl's anxiety over a few things, including what to wear for a special occasion." Email Sideswipe with your postal address if you'd like the dress.
Mystery prankster a colony of ants
A woman from Offenburg, Germany, has been kept up at night by ants triggering her doorbell. The 75-year-old became so frustrated at being unable to identify a human culprit that she called the police. Puzzled officers investigated, believing the noise to be the efforts of a prankster, before discovering that a colony of ants had constructed a large nest inside the bell's mechanism, which pressed the switch elements together. (Source: Digital Spy.co.uk)
Picture this: Middle child syndrome...
Positive pregnancy test, for sale: A prank or this could be used for the purposes of deception...
Video: Pascale Honore enjoyed watching her sons surf near her home in Elliston, Australia. But she was paralyzed in a car accident 18 years ago, so was never be able to join them in the waves. But Tyron Swan, a professional diver and friend made it happen using gaffer tape to affix her like a tandem. Utterly wonderful.
* Got a Sideswipe? Send your pictures, links and anecdotes to Ana
here.