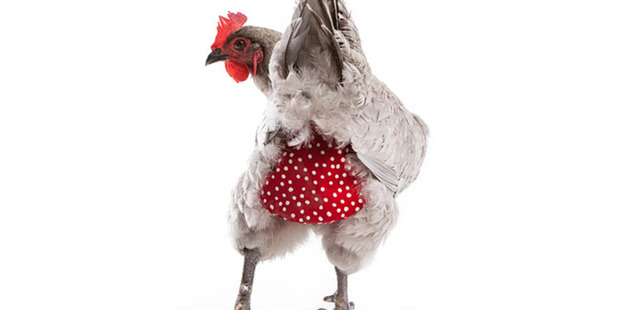 Chicken pet industry clucking
The US Department of Agriculture reported recently that in four of America's largest cities - New York, Miami, Los Angeles and Denver - nearly one home out of 100 keeps chickens for a fresh egg supply or as pets, giving rise to chicken services such as Backyard Poultry magazine, MyPetChicken.com and Julie Baker's Pampered Poultry store. Among the most popular products are strap-on cloth diapers for the occasions when owners bring their darlings indoors, to cuddle their "lap chickens". Also popular are "saddles" for roosters to spare hens mating injuries - roosters' brutal horniness sometimes costs hens most of their back feathers. (Source: News of the Weird.com)
Shoe fetish mystery solved
Baffled police have solved a mystery after dozens of items of stolen footwear were found stashed in a fox's den in Neunkirch, Switzerland. More than 40 trainers, boots, sandals and shoes were unearthed when a local spotted a vixen trying to drag a pair of gumboots into her lair.
Villagers had believed they'd become the target of a foot fetishist until police unmasked the culprit. "We'd had many reports of items of footwear going missing from outside houses and we couldn't work out where they were going," admitted a police spokesman.
Playground open at last
Matt writes: "Further to the Sideswipe on one of the Pukekohe playgrounds, on Friday it magically opened! We are picking it will be open for a short time until someone falls off the top. The kids are enjoying it immensely while it lasts!" And Auckland Council had this to say: "We're pleased to report that the playground at Newsham Park has reopened. We only have a very small number of playground safety assessors in New Zealand, so we had to wait longer than we had hoped for final safety certification. Pukekohe kids can now safely enjoy their new playground. We thank the community for their patience."
Courteous bus driver
Our public transport system might not be the best in the world, but Auckland definitely has the nicest bus drivers! I was walking down Esmonde Rd in the rain when a bus stopped alongside me and opened its doors (very safely, I should add; I don't want the driver getting in trouble for not stopping at the designated bus stop!!). "I thought you might like to hop on here" said the bus driver. "You're not going to make it to the bus stop in time and you wouldn't want to wait out in this weather for long!" So to the gentleman who drives the 820 Citybound bus, thank you. You made my day and stopped me from getting soaked!
Local: Karl Burnett, the actor formerly known as 'Nick Harrison' in Shortland Street, wants to try out his unique charisma on Mars. He has applied to Mars One, a Dutch organisation that looks like it's seriously planning to send people to Mars in 2023, and is taking applicants to be sent there. (Thanks Patrick)
Picture this: how to skin a rabbit if you're squeamish...
Good read: Husband and wife dress the dame for 35 years...
Graphics: An offensive map of the world...
Video: Gibbon have impressive balance...

* Got a Sideswipe? Send your pictures, links and anecdotes to Ana here.