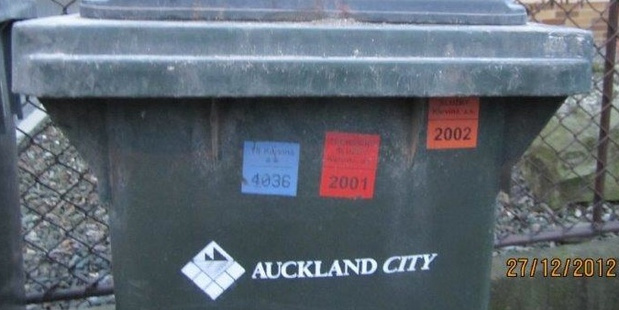 Megan took this photo in the street in Karvina, Moravia, Czech Republic. "Just wondering if Auckland City are doing rubbish collections there as well as here." Can anyone in the know explain?
When the weather bites
Back in 1969, a group of "anti-population" protesters staged a "hunger show" near San Francisco. The plan was to inflate a giant plastic pillow, inside of which 300 of them would spend a week without food, only water. They would have to watch "slides of pork chops and peas and carrots" and listen to taped sounds of restaurant noises. Also, sandwiches would be taped to the exterior of the plastic pillow, and non-participants outside would stage a pie-eating contest. The hunger show lasted half a week. Then it started to rain so they gave it up, saying, "We came here to suffer from hunger, not exposure." (Source; Weird Universe)
Peeping Jocks
Glasgow's Shimmy Club installed a two-way mirror in the women's bathroom and charged male club patrons to peep in from a private booth.
The club released a statement on Facebook calling the mirror "a bit of fun", "a talking point", and "a unique idea", and pointed out that signs in the bathroom warn patrons about the mirror. But one commenter claimed those signs are "barely noticeable". (Source: Newser.com)
Student loan debate
Yesterday a reader suggested we revoke qualifications held by overseas student loan defaulters. This reader responds: "Only a baby boomer with a nice state-funded education would come up with this. Maybe students should be asking universities for their money back when they don't find a high paying job with their new degree. At the very least they should hound the education providers to justify the vast costs they charge. The imbalance between the price charged and the product received needs looking at."
The original poster responds: "No, I was born in the 80s and I have been working and paying taxes since the day I left school at the end of 7th form as I knew, even in the late 90s, that it wasn't worth getting into debt to get a qualification when I hadn't even had enough work experience to know what I wanted to do with my life. Real world work experience seems to have done me fine. Very few of my mates that went on to uni ended up making more money than me now."
Picture this: Sauce gimmick a bloody mess...
Innovative punishment: This girl was relentlessly harassing a classmate's choice of clothing. As punishment, the girl's stepmother spent about $50 at a second hand outlet and forced her to wear the tres ugly clothing to school. Nice...
Picture this: Latte art has gone 3D
Video: Sweedishness is a hilarious anthropological piece poking fun at Sweden's equality, agnosticism, tolerance, and sexual liberation. (NSFW language)
Got a Sideswipe? Send your pictures, links and anecdotes to Ana at ana.samways@nzherald.co.nz