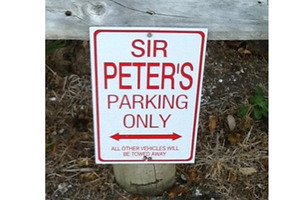 NZ Post fails to deliver
Warwick writes: "Last month we temporarily redirected our mail from Milford to Wanaka. As Gold Card holders, redirection is free and we were not asked for any payment. After a couple of weeks, we received a letter from NZ Post stating our redirection order was cancelled because no payment was made. Off to the post office, where we were told staff had not been advised yet, but new rules now applied and $25 had to be paid ... So NZ Post changes its rules, doesn't tell the staff, doesn't tell the customer, cancels the redirection, doesn't deliver the mail, advises you 16 days later (at the redirected address) and makes you start the whole process again. We will now get the last of our bills and accounts online. It's not surprising mail volume is declining so rapidly."
Writer 'disturbed the bowels of millions'
Irish writer Amanda McKittrick Ross (1860-1939) was considered the worst published novelist in the history of the English language: "Uniquely dreadful," declares the Oxford Companion to Irish Literature.
Ross, who published three novels and dozens of poems, describes eyes as "globes of glare", legs as "bony supports", sweat as "globules of liquid lava" and alcohol as the "powerful monster of mangled might". A group of famous literary figures would hold competitions to see who could read her work aloud longest while keeping a straight face. Ross' husband financed the publication of her book Irene Iddesleigh as a 10th wedding anniversary present. She believed her critics lacked the intellect to appreciate her talent and came to believe her growing legion of detractors conspired against her for revealing the corruption of the ruling class and disturbing, as she put it, "the bowels of millions". (Source: Neatorama.com)
In the name of agriculture
Julie Bullock writes: "Back in the 70s as a teen visiting family in South Yorkshire, UK, we were travelling in a car with my cousin Pat Lamb, her friend Julie Cowe and myself ... Realising the surname connection, my cousin commented in her broad Yorkshire accent, 'Eeee, it's like Farmyard Friends' - a 1950s story book for children."
In the name of repetition
Garrick writes: "During my time as chief driving instructor with Australian Federal Police based in Canberra, ACT, we had two serving officers - Constable Constable and Sergeant Sargent (Phil and Steve respectively)."
Social Media: If Facebook was around during WWII...(History boffins please take with a grain of salt)
Picture this: Tree Looks Like...A Dragon? Following our Tree Looks Like A Stag, last week Shama writes: "On one of our walks with our dog Khush (Hindi word for Happy) we spotted a tree trunk that looked like a dragon...Does it? (My brain is currently fixated on Game of Thrones)."
Video: A world without hate...
Sound effect: I could use this all day long....
Video: Kristy and her husband put together this charming video (their first foray into stop-motion) to document the arrival of their first child. (A pretty cool set of parental units you have there kid.)
Video: A really funny Kmart ad pushing the boundaries of good taste...
* Got a Sideswipe? Send your pictures, links and anecdotes to Ana here.