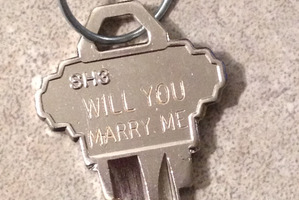 Ride to remember
Mike writes on his Easter show adventure: "Our family of four [mum, dad and two boys] were on the Ferris wheel which they load slowly one carriage at a time. We're sitting in our carriage up near the top enjoying the view and waiting for the ride to start when our 4-year-old starts clutching himself, pulling pained faces - he is busting and really needs to go. Thank goodness they had given us the ride tokens in a cup when we bought them. We emptied out the tokens and held the cup while the little guy filled it. I then had to sit for the rest of the ride holding a cup of warm pee hoping for no sudden jolts or excessive swinging. He is now proudly telling people peeing in a cup was the best part of the trip."
Slow to spot mistaken identity
Tales of brain fade: "One of my ex-colleagues used to suffer brain-fade on a regular basis, such as reaching into her handbag for her mobile and pulling out her home phone, or, on one occasion, her TV remote. My favourite though was the melon episode.
She used to bring lunch every day. Nothing fancy, just a couple of sandwiches, maybe some crisps, and a slice of melon. One Monday, she complained that the melon she'd bought wasn't very nice; it was hard, a bit dry and not very tasty. Reasoning that it probably wasn't ripe, she soldiered on and said she'd put it somewhere warm to ripen up overnight. This happened again on Tuesday. And Wednesday. On Thursday she came into the office and announced that she'd found out why her melon wasn't very nice: It was a pumpkin." (Source: B3ta.com)
Fake canines catch suspects
Strange but true:
1) Two car theft suspects were holed up in a house in New Haven, Connecticut. Police surrounded the house, but couldn't persuade them to give up. Then police hostage negotiators threatened to unleash the canine units, but the dogs weren't available. So they had officers pretend to bark like dogs and it worked. The perps walked outside and were arrested on the spot.
2) Luxury clothing brand Hermes are selling men's T-shirts crafted from "an innovative lightweight dyed crocodile," and calling the range of products Crocodile Chiffon. It's retailing at $91,500 at their Madison Avenue store. Unfortunately for the crocodiles their vital organ is in demand by luxury fashion brands. Last year, Mary-Kate and Ashley Olsen's fashion company featured a backpack made out of black patent leather from Nile crocodiles, which was created in collaboration with British artist Damien Hirst.
Strange products: Beardski makes a line of ski masks that look like beards (they're meant to be funny) and there's even a choice of beard style - the Pirate, the Viking, the Santa and more.
Picture this: Picture after the fire at London's Madam Tussauds Wax Museum in 1925...
Picture this: A reader writes: "This was a beautiful wall mural in New Lynn that took months to complete. Now it's being painted over. What a shame that all that effort has gone to waste and something quite beautiful is being covered. What gives?"
Light-fingered: Vector Arena writes: "Yes, we do have more than one light, but would the fat bloke caught on camera at Neil Young please bring it back? We have pretty clear video footage of him in action, and he's not welcome to come back to any shows anytime soon!
Video: Camera guy's laughter is infectious.
* Got a Sideswipe? Send your pictures, links and anecdotes to Ana here.