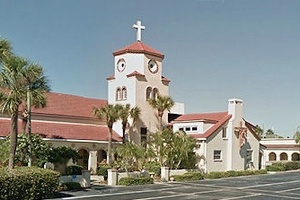 Internet sensation
The Church by the Sea in Tampa Bay, Florida, has become an internet sensation because the building strongly resembles a chicken. People are flocking to see it in the flesh after viewing pictures online. "While it was not intended to look like a chicken, the church's committee find the similarities highly comical," reports the Daily Mail.
Friends and foes at Farro Fresh
"The 'reward' schemes cooked up by market researchers are increasingly bizarre," writes a reader. "Boutique supermarket Farro Fresh now offers a $10 discount voucher and the designation 'Friend' to those who spend - wait for it - $400 a month! Many of its customers do not buy this store's upmarket condiments and wines but are attracted by their excellent range of fresh vegetables and free-range meats. These below-$400 folk will now presumably be classified as 'non-friends' - or 'foes' even. Ironically, it is the large retirement village nearby that provides this business with many of its customers: elderly people who budget for one- or two-person households."
Chips for free
Sally writes: "When I was little and my sister and I were in the car with my mum on a long trip, we also belted out off-key to the Dire Straits hit Money for Nothing and I asked mum why he'd get 'chicks for free'. Clearly wanting to avoid having to explain the wild ways of rock stars, she told us the lyric was 'chips for free' and that when a rock star goes into a fish and chip shop, they have to pay only for the fish!"
Media: On Tuesday Seven Sharp reporter Jehan Casinader wandered the streets of Wellington with this cake in search of time-filling vox pops about Novopay. However, Campbell Live had used a similar delicious gimmick last month. The team at Campbell Live featured a 'Farewell Lesley' cake for sacked Education Secretary Lesley Longstone after Education Minister Hekia Parata's frosty farewell.
Some sense to bureaucracy
Why you can't just rock up to Winz with a job ad: "Employers need to be checked out to ensure they are offering a legit, legal job," explains a reader. "You would be surprised at the fact that some don't. Also, Winz need to know the details so they can discuss with the applicants before sending CVs on."
Speaking out on Ponsonby parking
Perk parking in Pollen St, Ponsonby. "The reply in [yesterday's] Herald completely ignores the law - it is illegal to block any entranceway, even when it is yours. The roads are paid for by ratepayers and I, for one, resent their using these spaces as if it is their right."
Quick clip: How scientists believe the human face has changed over the past 7 million years (must be watched on full screen)
Music: This fantastic animated pie chart shows the major changes in how we listen to music over the last 30 years ...
Picture this: Artist as literal wallflower...
Video: Little kids suck at Hide and Seek...
Got a Sideswipe? Send your pictures, links and anecdotes to Ana at ana.samways@nzherald.co.nz