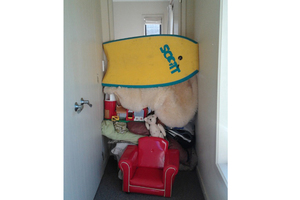 Toy barricade. Emma Tyler writes: This is what happens when a 5-year-old boy is mad at his mum. (That's our bedroom behind).
Moments of huge relief
1. A little girl, about 5, came along and begged to be lifted up so she could see out of the window. Eventually I obliged, but to my horror she suddenly leaned so far out that I almost lost my grip on her. I was desperately pulling her back into the train when, a split second after her feet touched the floor a bow wave of wind slammed like a door, another train screamed past in the opposite direction, seemingly inches away. I looked at the little girl in my arms and was relieved to see that she still had a head.
2. I was taking my girlfriend home in my battered old Land Rover. Driving down a dark country lane when a dog jumps out in front of us in what was obviously a canine suicide attempt. Thump! Definitely hit it - cue girlfriend's screaming, "is it dead, is it dead?" A quick scout around the car sees it wrapped up in the wheel arch, lifeless. Prodding and poking at it does no good, it's stuck.
Reporting this is rewarded with more screaming. Jack up the Landy and remove the wheel, now I can peel the dog from the arch. As I free it the bastard springs to life, bites me on the hand and runs away at top speed. That's a relief. (Via b3ta.com)
Don't believe all you see on TV
"Thanks TV3's Firstline," says a reader. "Dozing on the couch this morning, watching the news, with an occasional eye to the onscreen time that they display I was quite relaxed. Got up to get coffee, and wow! The Firstline time was an hour behind. So I am late for work."
Let's put the brakes on idle smoky buses notion
A reader reckons Peter Steinberg needs a lesson in how buses work. "Because they have different brakes and they HAVE to keep the pressure up to be able to drive off at a moment's notice. If they turn the buses off and have to start them again then they would have to idle for approximately 15 to 20 minutes for the pressure to build up in the brakes for them to be able to be used. When I went to school 20 minutes was more than 5 minutes. Further, Andrew Ritchie keeps ALL his buses up to COF standard and would not let a bus out on the road that was not, as the fines that Land Transport would impose on him would not be worth staying in business."
Different councils, different cars
"The grey Daimler DS420 Limousine in Dunedin is indeed the ex-Auckland City mayoral car, but it is not the black Waitakere Council mayoral car which Tim Shadbolt used to tow the concrete mixer," explains Ross Stewart. "Different councils, different cars. The registration history of that Dunedin car shows the plate changes don't correspond, nor is there a gap in the ownership history. The Shadbolt car is still missing."
Picture this: Tree legs.
Media: How news pictures can manipulate...
Cat a go go: Cartoonists at The Oatmeal made a better case than Gareth Morgan...
Video: Two male Dutch TV hosts have experienced the labour of childbirth for themselves by allowing electrode emitting machines which simulate the stomach cramps of contractions to be strapped to their precious man-abdomens ...(BTW labour pains last a little longer than the 2 hours these guys managed to last)
Got a Sideswipe? Send your pictures, links and anecdotes to Ana at ana.samways@nzherald.co.nz