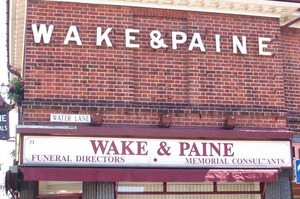 A funeral director in Twickenham by Ian Williamson
How much is your spin doctor?
Jon Addison received a letter from Contact Energy which read: "Changes to the discounts that apply to your account. We are simplifying the way we reward customers who use both electricity and natural gas. Here's what it means for you. From 10 December 2012 the DualEnergy discount is changing from a fixed discount of 40 cents a day to a residential 15 per cent prompt payment discount. You will no longer be eligible for the DualEnergy discount but you will continue to receive the highest discount you qualify for, which is the Online OnTime 22 per cent prompt payment discount." Translation: Your gas and electricity bill is going up by 40 cents a day.
The great British percentages
According to a survey by internet search engine Ask Jeeves:
23 per cent of Britons have never flown in a plane or visited France.
19 per cent have never been inside a McDonald's restaurant.
30 per cent have never bought a takeaway cappuccino or latte.
16 per cent have managed to avoid sending an email.
5 per cent have never used the internet.
6 per cent have never used a mobile phone.
28 per cent have never watched the X Factor on TV.
54 per cent have never sung at a karaoke evening.
9 per cent have never seen a James Bond film even though they have been around for 50 years.
36 per cent have never attended a football match.
18 per cent of adults have never owned a car.
Funny business
1. Seen in Samoa last year; a local dive business with the tag line, "our business is going under".
2. "As a child in the town of Rainham in Essex, UK, I remember a florists run by the Misses Cutbush ... and in Germany, another florists with the name Blumen Eck".
3. "In London a few years ago, there was a Chinese takeaways in the Fulham High Street called Ho Lee Fook!"
4. "The Graham Norton Show showed a fruit and vegetable shop called Melon Collie."
5. "Many years ago a group of young male springboard divers were pulled over by a traffic cop and asked their names. He let them go after they told him they were Hood, Brake, Gear, and Speedy. Arthur Brake could tell a very funny story about this at parties for visiting divers."
6. "I have enjoyed the articles regarding names but I really think this beats them all. When Fergusson Intermediate School opened in Upper Hutt over 40 years ago these were some of the staff members; Mr Birch the woodwork teacher; Mr Bronze the metalwork teacher; Mrs Tui the choir leader, Mr Dainty the gym teacher; Mr Gardener the caretaker."
Picture this: The two sides to Melbourne Cup ... The rabble and the celebrities.
Tempting fate? Shark board shorts.
Hobbit link of the day: An incredibly intricate model of "My Hand Made Hobbit Hole - Bag End from Lord of the Rings"... The detail is mind-blowing...
Video: Vomiting presidents and faux pas a plenty, here's the ultimate President fails compilation...
Got a Sideswipe?
Send your pictures, links and anecdotes to Ana at ana.samways@nzherald.co.nz