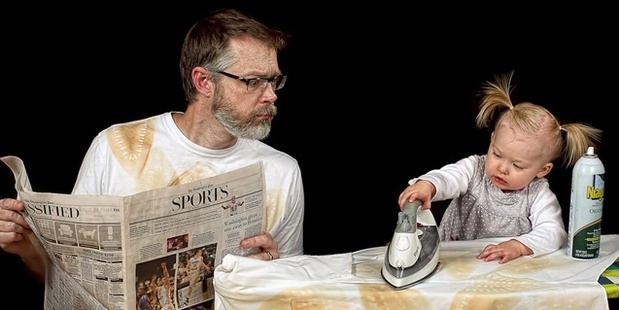 Art: Photographer Dave Engledow started out trying "capture the dazed, sleep-deprived obliviousness of the new father" and ended up with a darkly funny photo series called World's Best Father.
Sentimental: The fifty most romantic photos of all time is a swoon-worthy selection of love triumphing over adversity.
Local: Want a café where your toddlers are welcome...even catered to? Here's a list of toddler-friendly cafes in and around Auckland.
Picture this #1: Gay dads dress their baby up like a Sofia Petrillo from The Golden Girls.
Inspired by Conservative propaganda about the show turning a generation gay.
Picture this #2: Sad icons.
Society: In an attempt to curb the increased rates of infanticide the state of Nebraska has decriminalised child-abandonment. It was intended for babies, but legislators didn't put an age limit on it and caregivers have been dropping off their teenagers instead.
Film: Rare, behind-the-scenes photos from the making of Jaws.
Animal cuteness: A baby hedgehog drinking a shot of milk... And a chameleon washing its hands.
Getting hitched: Although I've never had one of my own (hint, hint) I am obsessed with TV's Four Weddings Australia and time and time again the same cheesy songs appear on the show - usually songs from 80s movies...but if you are lucky enough to be getting hitched (hint, hint) then these top 10 wedding songs have the cheese with a dollop of retro class.
Video: Monsters is a powerful PSA that portrays parents who have been drinking heavily as scary monsters in the eyes of their children.