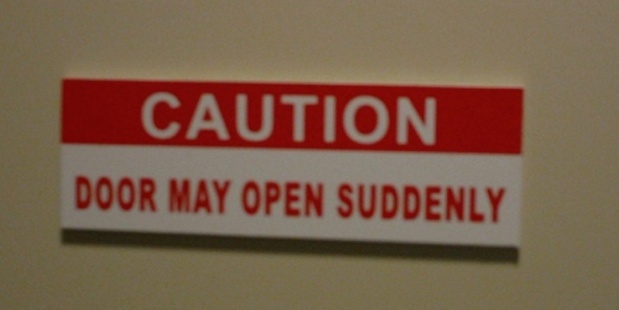 You don't say ... Spotted in Auckland.
False economy of long distance commute
One idea being tossed around in the media about how to afford your own home in Auckland is to buy further from the city centre and commute. But Chris says living in Whangaparaoa instead of the North Shore will cost around $55 a week more in travel costs if you work in town. "So the suggestion that living further from the CBD would give someone the opportunity to buy property that he or she would not be able to afford closer in, is not realistic," he says. "I hope this can be a warning to potential buyers to consider all the costs involved in buying a property further from the city."
Online hostility shrinks in the blink of an eye
Online comments are pretty nasty these days - give people a computer and anonymity and their dark side goes to town. According to Scientific American, researchers looked into what might make people be a little less hostile towards each other online and only eye contact worked. Apparently seeing someone's eyes helps you understand the other person's feelings and fosters empathy and communication.
Sustainability comes at a cost for workers
A major engineering company in Auckland is moving to a new five-star rated building - and has slapped a $50 annual fee on cyclists to use the lockers to store their bike gear if they choose to bike to work.
All-inclusive sign of modern dads
David Blaker writes: "Could Howick claim to have the world's most inclusive loo? The men's public facility next to the information centre has a fold-down 'baby changing' table, with instructions in seven languages: English, Spanish, French, German, Italian, Japanese - and Braille."
We have ways of making you love us
Too much Middle Earth hype for tourists? Nah. "I was walking behind some young German tourists late autumn two years ago," says Lockie Martin. "The Tongarario Crossing suddenly shrouded in mist and rain. Language ahead wasn't making much sense until the words 'Mordor' and 'Peter Jackson' emerged from the mist. Our country is the real asset!" And an actual tourists writes: "I visited NZ a few years ago and although I did not visit the Mordor location, I did visit Mount Sunday, which I must say is stunning, far more impressive than it appears in the film. I still watch the movies to remind myself of the time I spent in NZ."
Funny that - officer copied US cop
Yesterday's guide to police harassment, spotted on the New Zealand Police Association website, was unfortunately not written by a Palmerton North sergeant. According to the National Business Review it was very similar to a post credited to a Chula Vista, California police officer, answering the same question. Seems the sergeant re-purposed the humour for a local crowd.