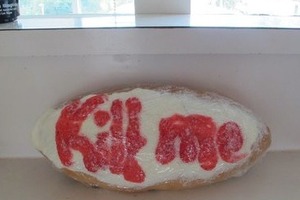 A Sally Lunn bun bought from a bakery in Glen Eden. Apparently one of the bakers has a keen sense of humour (and is really over it) at 3am in the morning.
Voice-lifts for more authority
Ageing businessmen are having "voice-lifts" as they try to restore authority in boardroom discussions. According to the Daily Mail, doctors claim the operation reduces the reediness in the voice. "Our vocal cords need to be pliable to vibrate thousands of times a minute, producing the puffs of air that help us form sounds. But, like other parts of the body, they age, becoming thinner, and so do not close properly, which affects the voice." Some surgeons use collagen or other fillers more commonly used to plump up lips, but these can make the vocal cords too stiff. Others inject stomach fat into the vocal cords. The procedure costs about $12,000.
Shout loudly for our Val
A reader shares the following conversation with her 9-year-old son.
Kid: Mum can we go to see Valerie Adams get her medal?
Parent: Why do you want to go honey?
Kid: To cheer ... she didn't get enough of the cheers at the Olympics.
Parent: What do you mean?
Kid: She got cheers for silver, not gold.
Parent: Ummm ... I'm afraid not just anyone can go. It's just for VIPs, sponsors and people who win tickets in radio competitions. We can watch on TV.
Kid: I have a loud voice, but not that loud.
Annoyance only fleeting
The Auckland Transport employee, featured yesterday, who parked on three spaces at once reminded this reader of an incident during the last parliamentary election campaign. "John Banks, who was campaigning with his placard-waving supporters on Broadway in Newmarket, parked his car in a loading zone and his trailer on the footpath. When asked by the executive director whose staff relied on the loading space to move his vehicle, he too ignored the request telling her, 'It only happens once every three years' and went on waving at vehicles and haranguing passers-by with his loud hailer."
Give tourists credit for intelligence
Brendan disagrees with yesterday's reader who thought the 100 per cent Middle Earth promotion would result in disappointed tourists. "Oh, come on!" he exclaims. "Really - Mordor? No one expects to see that, or any of the obvious CGI or Weta Workshop-built sets. Just as I'm pretty sure no one goes to New York expecting to see King Kong still hanging off the Empire State Building."