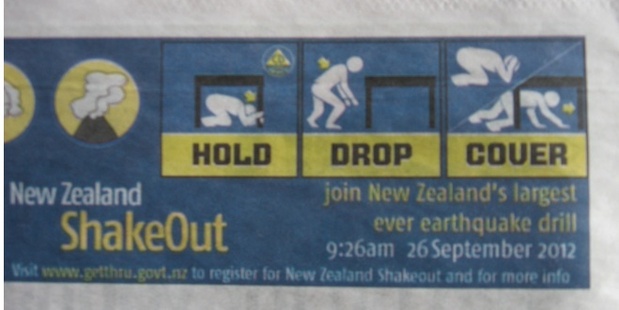 This was the ad for the national earthquake preparedness campaign ShakeOut in the Stratford Press. "The local participants may be a bit confused," says Claire.
Droppings part of the fun
John writes: "My daughter, a gymnast who has participated in the Santa Parade in various roles over the last three years, is very disappointed that she will not be allowed to do cartwheels amongst animal droppings at future parades under the new rules. Luckily we have pet rabbits at home, so if she really starts pining for the good old days, we can spread the droppings across the lawn and she will be able to get her quota of cartwheels among the droppings that way."
Under lock and key
Embarrassed #1: "When I was young, my job involved collecting and dropping off documents to all of the shipping companies around the city each day. This particular day, I carried a large pile with two hands, with my car keys on top. As I walked towards the lift, I tripped. The keys fell straight down between the gap at the door of the elevator, to the bottom of the lift shaft.
I had to call a repairman. The week before, I locked my keys in the car ... twice. So when I got back to work that afternoon, red-faced, I was presented with a new key chain and padlock - to go around my neck - and a float device just in case I dropped the keys down a drain."
Only in the US
Real estate horror stories:
* There is a breed of real estate agent in the United States who specialise in selling homes where great tragedies, crimes or traumas have taken place. The house where notorious serial killer Jeffrey Dahmer committed his first murder is on the market for US$329,000 in Akron, Ohio. The seller says it is a lovely home - once you "get past the horror factor". (The Daily Beast)
* When the house-removals truck turned up for Seattle resident David Tobey, he suggested that the driver park out front. But fearing a ticket, the driver decided to park on a steep hill nearby. When the truck was half full, the brakes failed and the vehicle ploughed into two parked cars. Tobey lost his stuff, was delayed four hours - and he got billed by the moving company! (Source: Yahoo.com)