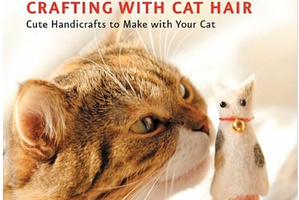 This book is not a joke; it really is about what you can make out of the hair your cat sheds.
Twin boys are sweet as
A couple who took their 14-week-old twin boys on a flight cross country from San Francisco distributed a bag of lollies to every passenger in anticipation of the babies disrupting the journey. The accompanying note read: "We're twin baby boys on our first flight and we're only 14 weeks old! We'll try to be on our best behaviour, but we'd like to apologise in advance just in case we lose our cool, get scared or our ears hurt. Our mom and dad (aka our portable milk machine and our diaper changer) have ear plugs available if you need them." (Source: Daily Mail)
Safest place for an ATM
Banks in India's Jaipur city have begun installing cash machines inside police stations to prevent burglaries and earn a little rent. A bank official said they would no longer need to deploy security guards at the ATMs. (Source: BBC.co.uk)
Credit where credit's due
Moyle Sarty of Te Atatu Peninsula writes: "After a protracted dispute over an incorrect final invoice, a nice lady at Telecom actually listened to my story and issued a credit. Sadly the amount she entered was 5c less than the invoice. I then received a mailed account for $0.05. Rather than waste more time waiting on the phone to sort that out, I went online and paid the 5 cents, and today received in the mail a further account showing the 0 balance. That is $1.40 postage. Clever, eh?"
Forty Hour Famine loophole
Sue reckons eating Raro powdered sugar came about after finding a loophole in the rules to the Forty Hour Famine. "In 1980 we were desperate for something to eat and some of us hit upon the idea that eating the Raro powder out of the packet wasn't really eating but just drinking without the water. (We were allowed to drink as much water and cordial as we wanted and a barley sugar every four hours). So eating Raro has been around for a long time, at least 32 years!"
When bendy was trendy
The vintage of the old blue bendy buses: According to Paul bendy buses were trialled in the late 1970s and properly entered service in 1980. "The original trial bus was parked outside our house regularly in late 1978. John Brown (head of the ARA transport arm) lived up a side street near us and I can remember riding on the trial bus with some school friends."