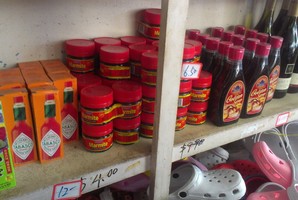 Karl writes: "After a little R & R in the Pacific Islands, I found this shop with a large supply of Marmite. This country is not aware of Marmagedden in New Zealand or the tidy profit it could make. It was nice to have Marmite on toast for seven days. The price was a bargain, and several jars were packed into the suitcase."
Review spells it out
BiC introduced a line of pens For Her ... Fortunately the reviewers of the BiC Cristal For Her Ball Pen (Easy glide, feel the smoothness) over at Amazon have sarcastic socks on. "For years I had dreamed of penning a masterpiece and yet, when it came to that blank piece of paper, the harsh offensive masculinity of the pen was just too intimidating. Finally someone has actually considered what it is like to be female in this cruel world and how easily our little minds can be intimidated and denied the opportunity to do our life's work. Five stars."
Headline hooks a reader
A reader writes: "A few years back, New Zealand Truth ran a short item on a trout fisherman in England who had a terminal illness. He wanted to give something back to the fish, so stated in his will for some of his ashes to be scattered on his favourite fishing spot. The headline: 'Angler's ashes."'
The description sounds familiar ...
A tourist in Iceland generously volunteered her time to search for a missing woman, only to find out she was, in fact, the person being sought. The debacle began when the woman got off a tour bus at a volcano, then changed her clothes before reboarding. Because the driver didn't recognise her, she was reported missing, and police spent the weekend searching for her. After taking part in the search herself, it dawned on her what was going on, and she told the police. "One has to wonder why no one else on the bus thought to ask if the 20- to 30-year-old 5'2" woman of Asian descent was the 20- to 30-year-old 5'2" woman of Asian descent everyone was looking for," writes Caity Weaver at Gawker. "Perhaps no one wanted to seem racist by suggesting this real-life Asian woman looked just like the hypothetical one." (Source: Newser.com)
A crappy map
Chris of Rothesay Bay writes: "Itouchmap.com shows the location of a place on Google maps and gives the corresponding latitude and longitude co-ordinates. Entering 'Mangere sewage ponds, Auckland' gives a point along the road from SkyCity Casino ..."
Ensuring Americans get the blame
Tony reckons that in his Oxford Dictionary of English, "there is considerable overlap between the meaning of insure and ensure in both British and US English". It adds that insure and ensure are often interchangeable. "Personally, I blame the Americans," he says.