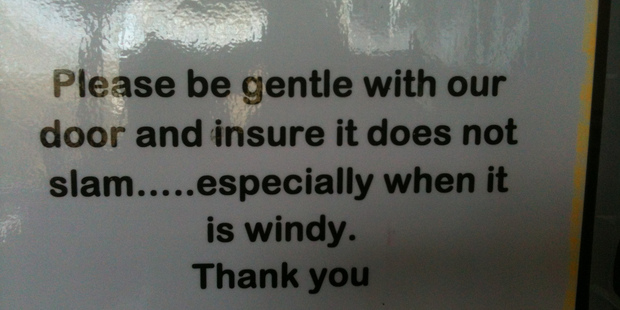 A reader writes: "I saw this sign on a gym door and thought that if you could not prevent the door slamming in the wind, then taking out insurance for the eventuality might be the next best course of action. Although I am not sure if it's really practical to get each individual door user to read the sign and take out a policy."
Read the New Zealand edition
Bookish types enjoyed this week's trending Twitter hash tag #replacebooktitleswithnewzealandtowns. Here are some of the best:
We Need to talk about Levin
Bluff The Magic Dragon
The Chronicles of Napier
Hairy Maclary (from Dunsandel's Dairy)
Dannevirke the Champion of the World
The Cat in the Hutt
Pride and Porirua
How the Grinch stole Christchurch
Green Eggs and Hamilton
Gore of the Worlds
The Lion in the Meadowbank
Of Mice and Methven
The Happy Huka Falls
Diary of a Winton Kid
Beauty and the Beast of Blenheim
For more go to RadioLive.co.nz
Songs keep getting sadder
The British Psychological Society reports that popular music is sadder than it used to be. The researchers looked at the tempo (fast or slow) and mode (major or minor) of the most popular 1010 pop songs from 1965 to 2009. Tempo was determined using the beats per minute of a song, and where this was ambiguous the researchers used the rate at which you'd clap along. They found that "the proportion of songs recorded in minor-mode has increased, doubling over the past 50 years. The proportion of slow tempo hits has also increased, peaking in the 90s."
Ambergris find a lucky fluke
Following on from yesterday's story about the Dorset boy who found a lump of whale vomit valued at around £40,000 ($78,150), Warwick Graham writes: "Ambergris [whale vomit] has been found in New Zealand. Back in 1928 during a beach walk at Otara Beach in Eastern Southland, a trio of relatives, Bill 'Lofty' Blair and Fred and Frank Ericson, shipped a large lump weighing 189 pounds [86kg] to England where it sold by tender to a French perfume company. With a fortune of £2400 each, Lofty and Frank each bought themselves Southland farms."