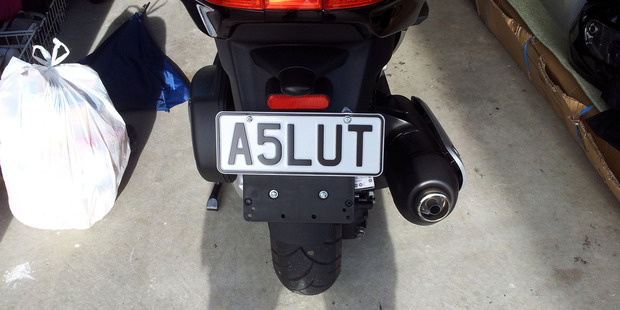 After getting his newly registered scooter home from the dealer Chris noticed the new number plate. "Has anyone else out there got any unintentional but questionable plates from the NZ Transport Agency?"
Water woes
Graham rents a property in Takapuna and as part of his lease pays the water charges. "Previously it was billed six-monthly and cost me around $20 per month for water used," he explains. "The new Auckland City Watercare monthly charging 'system' now includes a charge of $195 per year for the meter and a water usage charge on 75 per cent of the water used. This has resulted in my water bill tripling. The problem is the fixed-meter charge and wastewater cost was previously paid by the landlord as part of their rates bill and is now being lumped on me as the tenant. This works out at a $10 to $15 weekly cost increase that Auckland Council has imposed on tenants and removed from landlords. I am sure this was not intended by the council but now it is in place it will be very hard to alter. I would be interested to see what others in this situation have to say."
Foot x-ray nostalgia
Len writes: "Yes, I well remember the foot x-ray at Hannahs shoe store in Queen St, Auckland, about 60 years ago. This was no gimmick, but a useful aid for harassed mothers trying to buy shoes for their children. No more pressing down on the toe of the new shoe being tried on to gauge where the toes might be, no more fruitless attempts to get feedback on the fit from a small boy who hated the drama of shoe buying. Instead, the small boy got to see the bones in his foot, as if by some miracle. And mum got to see if there was any cramping of toes in the shoe, and could reliably decide if a size up was required."
Tim says the use of a fluoroscope was a shoe-selling gimmick until they realised how dangerous x-rays are. Fluoroscopes (of a more modern vintage) are still used for some specialised surgeries such as pacemaker installation.
And if you are really keen ... Volunteers at Devonport Museum in the Mt Cambria Park not only remember the experience, but have an unplugged machine on display. (Go to devonportmuseum.org.nz for opening hours)
Stick to the plumbing
Joanne Foster had an overly helpful plumber over to do a repair while she was at work, but this one went too far. "I'm a bit of a jigsaw puzzle freak," she explains. "And was looking forward to finishing my 1000 piece puzzle I had laid out on a card table in the lounge with only 20 or 30 pieces to go. He'd completed the repair job but also my jigsaw puzzle!"