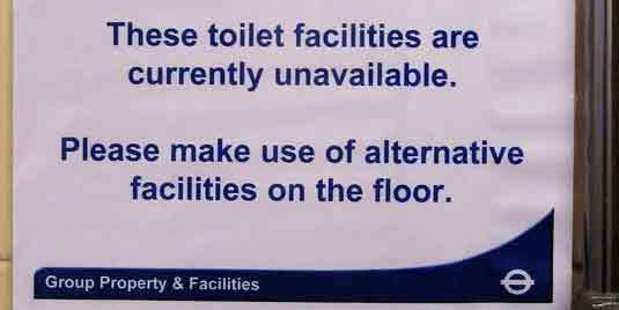 This sign at Baker St tube station needs some clarification. (Via Telegraph's Sign Language)
Tough call
Gina writes: "A good friend, who never in a million years would knowingly break the law, has been fined $40 for placing an A4 piece of paper in his rear side window advertising his car was for sale. How many people know that this is illegal? Wouldn't it have been better to have given him a notice stating that if not removed within 24 hours then a fine would be incurred?"
Big shock power bill
If your power bill has doubled you can probably relate to this woman who recently opened up her monthly bill to find that she was charged $1.3 million. Kristin Harriger, of Abilene, Texas, received a bill from Dallas-based Potentia Energy for a balance of $1,381,783.92. The company blamed a third-party business that handled the billing for the mistake in the bill, which also said Ms Harriger would have to pay an additional $66,000 if she paid the balance late.
Cheap and cheerful support
New word: "Unsourcing" involves companies setting up online communities to enable peer-to-peer support among users. Instead of speaking with a faceless person thousands of kilometres away, customers' problems are answered by individuals in the same country who have bought and used the same products. This happens either on the company's own website or on social networks like Facebook and Twitter, and the helpers are generally not paid. (Source: Economist).
Bunny still filling in time
"A child's ... well-loved bunny was left in our Party Mad shop in Kingsland a while ago and we have waited for a desperate parent to return and ask if we found him," writes Greg. "The staff love having him around and his photo shoots are becoming more elaborate every week!"
Consumer flops
In Ann Arbor, Michigan, there is a warehouse full of products that didn't make it. Its nickname: the Museum of Failed Products. According to the Guardian, this is a "consumer capitalism's graveyard". "It's almost certainly the only place where you'll find Clairol's A Touch of Yogurt shampoo alongside Gillette's equally unpopular For Oily Hair Only and an empty bottle of Pepsi AM Breakfast Cola (born 1989; died 1990). The museum is home to caffeinated beer; to TV dinners branded with the logo of Colgate; to self-heating soup cans that exploded in customers' faces and to packets of breath mints that were withdrawn because they looked like the tiny packages of crack cocaine dispensed by America's street drug dealers. It is where microwaveable scrambled eggs - pre-scrambled and sold in a cardboard tube with a pop-up mechanism for easier consumption in the car - go to die."