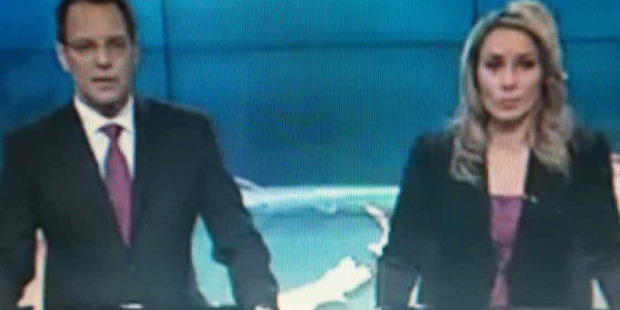 "What's with TVNZ and their 'matchy-matchy' newsreader outfits?" asks Anthony. "Wendy's top and Simon's tie? Give me a break. I thought at first it was just a Simon/ Wendy thing, but they're making Bernadine do it too! Reminds me of my 4th form school ball."
Carjacking, Remuera style
A reader writes: "On Friday evening at around 10pm we [three ladies] were driving home from the theatre. We stopped in Victoria Ave in Remuera to drop off one of our friends. Suddenly, the back door of the car was flung open and a young man got in. He told us that he had his beer and we could drop him off in Remuera Rd. We told him to get out. He insisted that because we had stopped to pick him up, we should follow through. We told him to get out [again] and then the driver got out and continued to argue with him. Finally he got out but told us that if we did not take him to Remuera Rd he would 'piss all over the car', which he proceeded to do. What is wrong with youths that they have to go out and get boozed and have no idea how to behave?"
They believe it all
"I forget sometimes that little ones believe everything you say," writes Cressida Evans. "I was at my brother's celebrating his birthday - my gift was a voucher inside an envelope. My almost 3-year-old nephew was handing out the presents. When I gave him the envelope to give to his dad I whispered in his ear that it was an elephant. He spent a few moments thinking it over, then asked 'is it a flat elephant?"'
Reality name game
Readers suggestions for the title of the new Sally Ridge "reality" show:
* A Ridge to Nowhere
* PorRidge
* Ridge over Troubled Daughters
* Bored Ridged
* Way Below Ave-Ridge ORidgenal Cringe
* The Ridges of Media Bounty
Smoothing the way
The Queen has someone to wear her shoes in before she puts them on to ensure she is never in discomfort, her stylist Stewart Parvin has revealed. He also disclosed that she wears an extra shoulder pad on one side to disguise an imbalance and has a team of dressers who record what she wears at every engagement to ensure she never repeats herself. (Source: Telegraph.co.uk)