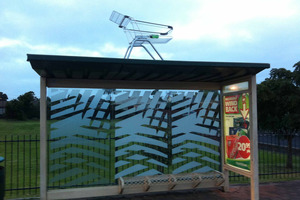 A trolley gone astray in Takapuna. Photo / Supplied
Deb spotted this trolley in Takapuna and wondered how the culprits managed to get it up there.
Bar loses its tab
A reader writes: "I work near Britomart and there are two bars there that we go to all the time. Sometimes I'll go there three times in a week and we would have spent literally thousands there over the past 2-3 years. So... Saturday night... 9pm... On a stag do... there's nine of us, three of whom are in their 40s and late 50s, we're not drunk (we'd just shared a bottle of wine and 3 beers over dinner) ... No costumes... No sexually explicit paraphernalia (not like chicks on hen's nights get away with)... We all easily met the dress code ... And they deny us entry just for being on a stag do. Ironically, when nine of us from work (all male) went for lunch there the other week, they had no trouble taking our money. But if these guys think we're ever going back there and racking up our usual bar-tab on a Friday night, they can think again."
White carpet comparison
Trying to relate FAIL: "Returning to work after becoming a father for the first time, a colleague asked the usual question, 'So, how do you feel now you're a parent?' I replied that the hardest thing to get used to was the knowledge that, no matter how hard you try to protect your offspring, something bad could still happen to them. You just had to live with that fear. She thought for a moment, then said 'Yes, I suppose it's like having a white carpet, isn't it?' ..." (moon monkey via B3ta.com)
Cough, cough, she's cured
Medical miracle: Claire Osborn, 37, of Coventry, was diagnosed with an aggressive, inoperable throat-mouth cancer and given a 50 per cent chance of survival. A month later, she coughed out the entire tumour. Tests revealed no trace of cancer in her body. Doctors reckon that the tumour was growing on a weak stalk that was overcome by the force of the cough. (Source: News of the Weird)