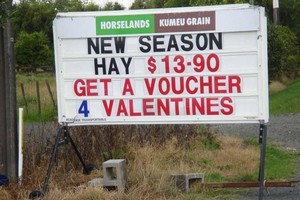 "Country girls are just so easy to please," writes Glyn. "But I just wonder how a voucher for hay would go down with 99 per cent of women?"
Moa pack powerful bite
"The best tale I encountered was in the Herald circa 1973," writes John Downie. "Some English tourists were plagued by little black flies that packed a powerful bite. Their guests told them that they were called moas. Both islands were traversed by these tourists, complaining to everyone about the moas that kept biting them. The comment finished by saying that not one person corrected them and I have to agree with the writer, that many people will tell the tale for years to come. I still do."
Bullet move falls flat
A man was arrested in Dayton, Ohio, and charged with trying to rob a store. He had demanded the money in a cash register and, apparently as an attempt to intimidate the female clerk, he pulled out a .38 calibre bullet from his pocket to show her. She was, of course, undaunted. (Source: News of the Weird)
What we believed
1. "As a child of the late 80s I was raised on quality television shows such as The Muppets," writes Gabrielle from Rotorua. "My favourite segment was called Pigs in Space, a hilarious parody of Star Wars with pigs. There was one very clever part of their spaceship which allowed them to turn gravity on and off so they didn't have to float around once they got into space. It wasn't until I was in my teens that I was having a conversation about space travel with my family. I was explaining my confusion as to why people in space didn't turn the gravity back on to make things easier! It never occurred to me the Muppets was not fully factual!"
2. "As a kid we lived in Ohakune. I was told that the giant carrot was placed there so that if Mt Ruapehu erupted, a helicopter could pick it and plug the crater."
3. "When my brother's children were very young he taught them that Band Aid plasters were called epidurals. Why? Well it was amusing to see an upset child (not knowing any better) with a cut finger, grazed knee or stubbed toe demanding an epidural."
Scratch and sniff jeans
Canada-based Naked & Famous Denim coated denim fabric with mini microcapsules that when scratched release the candy-like smell of raspberries for their new men's raspberry-scented denim jeans. The raspberry scent lasts up to five wash cycles. (Source: Laughing Squid)