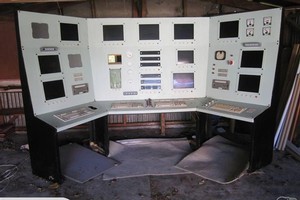 Life-Size Evil Boss/Dr No Mission Control Unit for sale on Trade Me ... "It has also been perfect for the tyrants in my life, my children," writes the seller. "They love it. And so I'm selling it. Mwahaha! It was made as a set and is constructed of cheap wood ... so please note nothing happens if you count down from 10 and push the red button ... The only dastardly deed of its life might be that it could be a real pig to move." Auction closes February 15.
Unhappy flying hour
A frequent flyer writes: "So ... for the last two years at least Air New Zealand has had a Wellington to Auckland flight at 4.30pm. This coincides with their 'Koru Hour' service (4.30-7pm) which gives all of us tired travellers the option of a wine/beer and cheese and crackers - always a nice way to end the day! How odd then that the flight from Wellington now departs at 4.25pm ... I was curious if this would impact on the Koru Hour service and sure enough, on the flight yesterday we were offered tea/coffee/water only - because the flight now leaves before Koru Hour starts! Hmmm sneaky Air NZ!"
The young and gullible
Leg pull No 1: "At the age of 15 and my first job at the Bank of New South Wales, Birkenhead, I was told to go over the road to the Bank of New Zealand and get their scales so the manager could balance the accounts!
Leg pull No 2: "When working for Inland Revenue in Takapuna it was common to get newbies to search the stationery room for a verbal agreement form. Some people just didn't get it!"
Leg pull No 3: "My nephew as a young boy was absolutely convinced that the soap opera was The Young and the Wrestler."
Leg pull No 4: "It's not just apprentices who can be fooled. I once left a message for my boss (the chief reporter of what was then 3ZB in Christchurch) to phone the university maths department and ask for Laura Vaveridges. And he did! He wasn't quick to learn, because some weeks later he happily phoned the German embassy to ask for Alfie D'zane."
Leg pull No 5: "As the new apprentice (aged 15 ) I collected everyone's smoko from the adjacent canteen. You can imagine the look on the canteen ladies faces when I asked for three steak and cheese pies, two pieces of battered fish and half a dozen hot buttered ovaries!