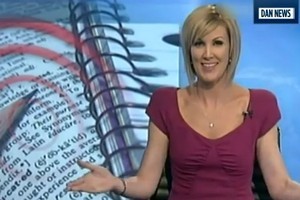 Video: Dan News has released his annual broadcast blooper reel, featuring plenty of local fumbles including Peter Williams falling off his chair, TV3 weatherman Mike Hall forgetting which channels he's on and Petra rapping.
Very Short film: A cynical photographer tries to knock the smile right off the kids' faces in School Portrait. Brilliant short, guaranteed to make you smile.

Books: And the winner of this year's Literary Review Bad Sex in Fiction Award is... (NSFW people, although pornographic or expressly erotic works aren't allowed in the contest)
You may now eat the bride: The trailer for a new US reality show, The Virgin Diaries, has gone viral because it includes the first kiss of a couple who waited till their wedding day to even pash...
Picture this: The Year in Photos from the Atlantic includes an image from Lyttelton after the earthquake in Part 1. See also Part 2 and Part 3. Wow. It's been a full-on year on the planet eh?
Quickie: Will Ferrell does unpretentious beer ads...
Video: Making a Taekwondo guy out of your hand...
Blog of the week: Shit My Kids Ruined is a tremendously good blog more about the stuff kids demolish, rather than your sleep or sex life... This catastrophe I can relate to. When I was about 9-years old my folks went to Rotorua and came back with a beautiful set of pois for me; after a few days of swinging them around I couldn't help myself, I just had to know what was they were made of...Also check out what an artistic 4-year old did to her mother's car and what boys can do to the internal corners of your house. What's the worst your kids have done?
Read this: This man had a three month dialogue with a scammer pretending to be a beautiful woman. "Claire" was unsurprisingly quick to ask him to send her money so she could come back to the U.S. and be with him, and Teddy Wayne kept up an ongoing dialogue via Facebook stringing her along while finding ways to explain why the money hadn't come through. He told her he had chronic diarrhea and hoped she would still love him. Read their exchange here.
Funny radicals: Occupy Melbourne protesters know they aren't allowed to camp in the park, so they wore their tents as clothes and this is what happened when officials and police turned up ...