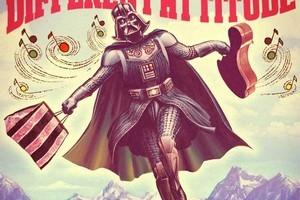 What do you get when you cross Darth Vader and Maria von Trapp? A swift response from the patent lawyers of LucasFilm, as power retailer Powershop found out. It seems their online advertisement (above) featuring Darth caused a fair amount of disturbance in the force and Powershop responded by pulling it from circulation. But CEO Ari Sargent says he isn't giving up completely, "not while hope for freedom still exists in the galaxy ..."
Bad career move
Renaissance man Thomas Ackerman, 24, must've been quite a disappointment to his mother, what with being charged with arson on a laundry in Oklahoma City. After all, Ackerman said he has seven university degrees, is an architectural engineer, phlebotomist, stuntman, mixed-martial artist, and sex toy engineer, and designed the Green Goblin's hoverboard in three Spider-Man movies. (Source: WeirdUniverse.com)
A step too far
Council romance killer: "I parked close to the Auckland Museum at 11.30pm one very quiet Friday evening and my partner proposed to me on the steps," writes Tracey. "However, the Auckland City Councils parking trolls, in their infinite wisdom, fined me $60 for 'blocking traffic' in the deserted domain, even though I was only 50m away from my car."
Scammy site-seeing
Edward Sargisson explains that the ki-wi.co.nz that Fiona said was sending tourists away from Wellington, looks like a paid directory site. "The aim is to list a link to other sites so Google ranks those sites higher on the results page. These sites tend to be pretty scammy and Google often penalises sites that use them ..."
Teens - some good news
A reader writers: "You know what? Teenagers aren't half bad! Sitting at Papakura train station, I was slowly drifting off to sleep when a young boy came over and said 'Miss, there's a train coming. Are you getting on?' It was my train and the boy helped me and my walker through the door and took me to my seat before running off back to his mates. What a gentleman. Bravo."