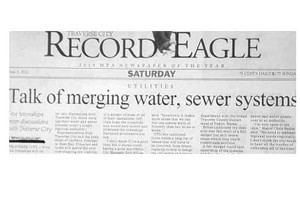 This headline in the Record Eagle was cause for concern.
Mummy's boy
What is it with 8-year-old boys? "Our office lady at school was in hysterics today," writes a reader. "An 8-year-old boy came into the office and she asked had his mum been sick (she knew she had been in hospital). The kid says: 'No, she's all right, she just got spay did [spayed].' Guess the family cat or dog had had the same op."
Fair go ... or not
According to Ilai Amir, the counter display at the cafe attached to the fish market in the new Wynyard Quarter includes Fair Trade-branded coffee sacks, yet here is his dialogue with the cafe staff ...
Amir: Hi, is your coffee Fair Trade?
Server: What is Fair Trade?
Amir: Um, ask the barista, he should know ...
Barista: Fair Trade? Nah, I wouldn't take the risk with that!
Neglecting the aliens
Simon writes: "Oracle, yes, the one currently holding the America's Cup, also the world's biggest business application software maker. It recently released its latest business software version - one its human resources [people] set up ... One of the required fields is your skin type! I guess they forgot green for those green aliens among us."
Oh, if only ...
A reader writes: "On our way into town on Friday evening our train stopped between Newmarket and Britomart for more than half an hour. We were packed in like Tokyo rush hour commuters. As nerves were beginning to fray, a voice from near the front of the carriage called out, 'Drinks trolley, coming through'."
Someone still cares
About four months ago, Marie Roberts appealed for her lost parrot Booger through Sideswipe. "Sadly I never got him back, but I was very grateful," she writes. "In the course of looking for Booger I printed many flyers, and put up a big 'Lost parrot' sign on a main road near my house. The council took the sign down after a few months. But imagine my surprise, when driving home yesterday, I saw a new sign: 'Have you found the parrot?' It made me smile."