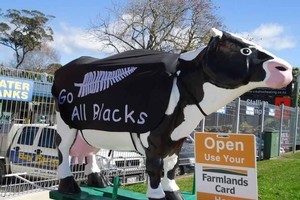 Gretchen Benvie spotted this at Bay Farm & Industrial Pumps in Tauranga, a firm supporting the World Cup despite the city's disappointment it couldn't secure a game during the tournament.
Hardly child-friendly
Vanessa was disappointed at the new children's park at the Wynyard Quarter. "Where's the slide? And the children have no idea what the three lots of orange and white sticks coming out of the ground are for. There is a large hill which the kids love sliding down - unfortunately there is a cement court at the bottom. Did the person who designed this park have any kids or know any?"
Errors of judgment
1) A 46-year-old man was convicted of theft in Kendal, England, after a witness pointed out that the accused had worn to court the very coat he had stolen from the store.
2) A National Health Service hospital has been left red-faced after a job advert for an anaesthetist included the phrase, "usual rubbish about equal-opportunities employer etc ..."
Pitching to children
Sarah, from Sandringham, writes: "Despite being on a no-call list, we still get people ringing around dinner time trying to sell us things we don't want. On Tuesday night, we got a call from somebody who spoke to my 8-year-old son for a good two minutes trying to convince him to buy tickets to Beauty and the Beast. What kind of call centre lets its workers pitch to kids? Bad ones, I'd say."
Beware extra viewing
Bruce writes: "A warning with the extended-record feature on TVs. I woke up one morning to find my 8-year-old son watching the first 20 minutes of Californication. He thought it was great, all that swearing, drinking and, I am guessing, sex."
Give Aucklanders a break
A reasonable, well-mannered Aucklander writes: "Why do people like Mike feel the need to insult Aucklanders after one person makes a dumb comment? His preconceived idea of snobby, up themselves Aucklanders is actually not based in reality." And Sarah says: "I'm rather sick of the anti-Auckland sentiment... Maybe there are some 'big city folk' who think they're the cat's pyjamas, but the vast majority of us are decent, down-to-Earth people just like everyone else."