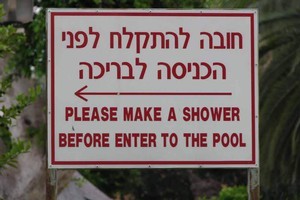 "Only builders and plumbers allowed to swim here," says a reader who snapped this in Tiberius, Israel.
Can't win even with photo ID
A reader writes: "My son always has to produce ID for buying alcohol and decided to apply for the 18+ HANZ photo ID card in July. We had to get it verified by a JP, send a birth certificate and pay $20 for the card. It arrived, but with his birth date as born in 1962, making him 49 years old. He used the card at a West Auckland liquor outlet and the shop assistant thought he was trying it on. He tried to explain - it should be a 9 not a 6 but she refused to serve him ... HANZ have yet to send a replacement card."
Knowing when to give up
A study on ageing and depression advises how not to turn into a grumpy old man (or woman): It's called "goal disengagement". The study, in the journal Health Psychology, says: "The ability of older adults with functional limitations to withdraw effort and commitment from goals that are no longer attainable can help them avoid increases in depressive symptoms over time." (Source: Neatorama.com)
Have a party on me
Vegas is the destination for bachelor parties, but a wake? A British marine killed in Afghanistan left an unusual bequest in his will: money for his friends to go to Las Vegas for a party. Hart had taken out a life insurance policy, and his family found he had designated 50,000 pounds for a charity that helps wounded service personnel - and 100,000 pounds for his military and civilian buddies and their girlfriends to go to Vegas.
Outcome fails to match intent
For 8-year-old boys who make tea for their mum: "Many years ago on Mother's Day, my then 6-year-old son brought me a breakfast that consisted of a slice of day-old bread complete with a hole made by fridge-cold butter being inexpertly spread and topped with a Watties peach slice. The tea was made fresh from the hot tap - as he wasn't allowed to use the electric jug - with the tea bag floating in it. It was lavishly praised by me as I drank it. But my husband sent him on his way and threw the contents of his drink out of the bedroom window - only to hear the indignant squeal of our son who had gone outside to get his bike, and copped the lot."
Fat as 'a big, thick stick'
"I, too, have a precocious 8-year-old," writes a mother from Henderson. "I was moaning about being fat and in earshot my son kindly told me I wasn't fat and in fact, I was 'as thin as a stick'. There was an awkward pause as he held his hands up to my middle and adds: 'a big, thick stick'. Too funny."