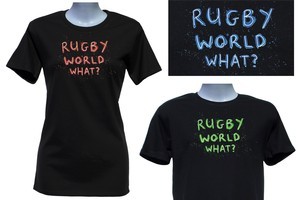 "Not a fan of rugby or upcoming rugby-related events? Then wear it loud and proud!" says artist Katie Russell (aka KilowattKatie) who has made a lightly satirical range called This Is Not A Rugby T-Shirt.
Designs include:
* Rugby World What
* Gryffindor 10, Australia 0
* Rugby, Shmugby.
* Go Sports Team! Score Points!
See all the designs here: kilowattkatie.com/rugbytees
Best one-liners from Scotland
The 10 best lines at the Edinburgh Fringe Festival...
1) "I needed a password eight characters long so I picked Snow White and the Seven Dwarfs." (Nick Helm)
2) "Crime in multi-storey carparks. That is wrong on so many different levels." (Tim Vine)
3) "People say: 'I'm taking it one day at a time'. You know what? So is everybody. That's how time works." (Tim Key)
4) "Drive-Thru McDonald's was more expensive than I thought ... once you've hired the car ..." (Hannibal Burgess)
5) "I was playing chess with my friend and he said, 'Let's make this interesting'. So we stopped playing chess." (Matt Kirshen)
6) "My mother told me, you don't have to put anything in your mouth you don't want to. Then she made me eat broccoli, which felt like double standards." (Sarah Millican)
7) "I was in a band which we called The Prevention, because we hoped people would say we were better than The Cure." (Alan Sharp)
8) "Someone asked me recently - what would I rather give up, food or sex. Neither! I'm not falling for that one again, wife." (Mark Watson)
9) "I admire these phone hackers. I think they have a lot of patience. I can't even be bothered to check my OWN voicemails." (Andrew Lawrence)
10) "My friend died doing what he loved ... heroin." (DeAnne Smith)(Source: Digital TV channel, Dave)
Minimising effectiveness
A Kiwi working as a locum in an NHS hospital in Britain writes: "In my current hospital we receive weekly email newsletters keeping us up to date with happenings in the hospital. Among the various offers I discovered a priceless gem. As staff we are being offered the opportunity to develop our management skills, including a course entitled 'Minimising employee contribution and effectiveness'. Needless to say a correction was emailed around the hospital about half an hour later pointing out it should have read 'maximising'. I can't help wondering if someone's true colours slipped through there?"