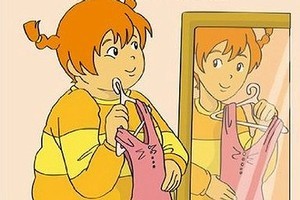 Don't do it Maggie! Forget the cheap junk food and sedentary lifestyles, this children's book (intended for kids as young as six) about a chubby girl who goes on a diet and then becomes popular, is the answer to childhood obesity. The book is about to be released in Australia and is causing controversy. Read about it here.
Rugger 1: The only way the ladies would be interested in rugby is to pitch it at as a hunk-o-rama-fest - unless the games came with free shoes, right? This TVNZ.co.nz sports story is little more than a vacuous conversation at a Viaduct bar... And it should've stayed there. It reads: "We've won already - hands down really. No one can beat the All Blacks in the Hunky World Cup. That's the unanimous conclusion of the shallow women of Facebook and Twitter, and no doubt the female staff of workplaces nationwide." The story goes on to rate the players and assess their aesthetic attributes.
Of Richie McCaw... "Probably not a traditional looker but does a good line in pensive and sultry. Tough. Nice hair. Quizzical eyebrows. Bit dull at the end of a microphone but you don't have to listen, just look." Gah.
Rugger 2: The new online rugby TV show featuring TV3's mature brat pack is just what RWC broadcasting needs. (Shame the TV3 website can't support video content - it grinds to a halt every time you play a clip)
How you say dat? First there was a YouTube channel called Pronunciation Book with English words pronounced correctly (if you're American) and designed to help English as second language folk... The intentionally confusing (and amusing) Pronunciation Manual has ridiculously (and incorrect) pronunciations filmed to look just like the clips on the more helpful channel. So how do you pronounce Glenfiddich? Or Jake Gyllenhaal?

Cute-as-clip: Sleeping kid eats ice cream.
I want: A grilled fish pencil case.
Nostalgia: According to Flavorwire.com these are the 10 Best Love Songs From '80s Movies. Here are the top three (click through to see the videos of each).
3. "(I've Had) The Time of My Life" - Bill Medley & Jennifer Warnes [Dirty Dancing, 1987]
2. "Take My Breath Away" - Berlin [Top Gun, 1986]
1. "In Your Eyes" - Peter Gabriel [Say Anything, 1989]
Inexplicable clip: Death Metal socks sale...

Short animation: One Minute Puberty (for boys).
Video: Toughest Job in North Korea...(This is a must see)