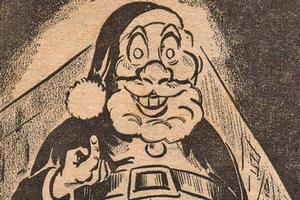 Barry Magee writes: "Very topical with big old Farmers Santa getting his makeover; a cartoonist in 1963 drew this for the Weekly News."
The catchphrase reads "We'll have to tell him, George - he's getting suspicious".
* * *
Michael says: "After reading about Janet's real estate agent experience after her father passing away, I'd like to share mine. My father died on a Tuesday. The death notice appeared in the local paper on the Wednesday. About 9pm that night we got a phone call, introducing themselves as a real estate agent and asking to speak to my mother! My mother had passed away some four years prior and had the agent read the death notice properly they would have been aware of this. I spoke to the agent's manager the following day and was told that the agent was simply "cold calling from the phone book". Only my father's name was listed in the book but they rang asking for my mother. No other family member with the same surname received a "cold call" that night."
* * *
Real estate agents browsing the death notices: Jenny says the same thing happened to her mother ... "The day after my father died and also on the North Shore. The agent came to the house with a potted plant and her business card to give to mum. We were all appalled. Then a few years later after mum's passing, and before her funeral, the same agent turned up with a potted plant for us girls, and her business card for us to keep while we thought about what we were going to do with the house. Unbelievable."
* * *
Another reader writes: "When my husband died suddenly two years ago, a realtor friend of his, who I knew vaguely, came to visit a few weeks later. Over a glass of wine he began to talk to me of the advantages of 'getting rid of all this' (waving his arm at my large garden) and of moving to an apartment ... "
* * *
Sales of pale foundation have shot through the roof since the release of The Twilight Saga: New Moon. Online beauty shop FeelUnique.com says its best-selling product is a pale pink illuminating powder. L'Oreal has also seen its True Match powder in Rose Ivory increase in sales by 133 per cent. Marie Claire says the trend, which is known as the Twilight effect, includes smoky-eye makeup and blood-red lips "all matched with hair dyes in black colours and, of course, the ability to refrain from smiling".
* * *
Maureen Hueting advises: "Don't have a heart attack when you come back to your car and you find an infringement notice on your windscreen. I returned to my car and I could see - INFRINGEMENT NOTICE. My heart skipped a beat. But close inspection revealed it was written by the Enforcement Authority BurgerFuel City Council ... I do have a sense of humour but this is sick!"
* * *

Today's Webpick: Dan News' 2009 Christmas blooper tape has everything from Wendy Petrie's fist pump, fainting, filthy graphics and many more fumbles and stumbles from our TV year. Brilliant. Go here and check it out.


Follow Ana Samways on Twitter