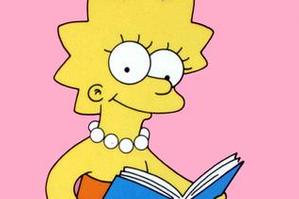 The Vegetarian Star reports that executive producer for The Simpsons, David Mirkin, says Paul McCartney agreed to appear on the cartoon only with certain conditions. "When I asked him to do the vegetarian episode, he agreed but made me promise to keep Lisa as a vegetarian - and I was happy to comply with that because I'm a vegetarian too. Every time I see him, he always checks - and he's always surrounded by nine or 10 lawyers, so it's quite frightening!
* * *
Sharon writes: "A colleague came into work a couple of weeks ago as mad as hell. She and her 16-year-old had a heated discussion on the way to dropping daughter off at school. Mother angrily declared 'you're grounded!' Daughter's comeback was great. 'You can't ground me! I've got a ranch slider and a bus pass!' ... daughter 1, mum 0."
* * *
Bob writes: "On our retirement my wife and I moved into a smaller apartment which has a remote electricity meter installed for the meter reader's convenience. We have just learned that we have to pay a rental charge of nearly $50 a year for it. We have never been charged a rental for our meter before and can only assume the directors of Contact Energy need to charge pensioners for their meters in order to make enough profit to pay themselves their over-the-top directors' fees."
* * *
A reader claims that at an Auckland high school, students aged 17 to 18 are forced to sit on the floor for the first 15 minutes of lunch time, like toddlers, to eat their lunch. Anyone who stands up during this time faces a detention, and anyone who is late has to sit down immediately where they are and bottom-shuffle over to where they wish to sit.
* * *
A reader writes: "I attended a private girls' school in Australia where all girls had to wear a green ribbon in their hair, regardless of its length. The width of the ribbon had to be 1.5 cm and it had to be bottle-green. Being seen without one resulted in instant detention. Now that's pedantic."
* * *
A number of readers challenged the flu expert who said you don't get the flu from being cold. "I suggest you study up a bit more, as poor body temperature regulation can significantly impact the immune system, thereby while not making you sick, rendering you more susceptible to getting sick. Oh, and there's no discipline taught by not allowing singlets, it's just plain old stupid draconic rules that exist for no better reason than to give the schoolmasters a nice little power-trip." Subject closed. Spring thankfully approaching.
* * *