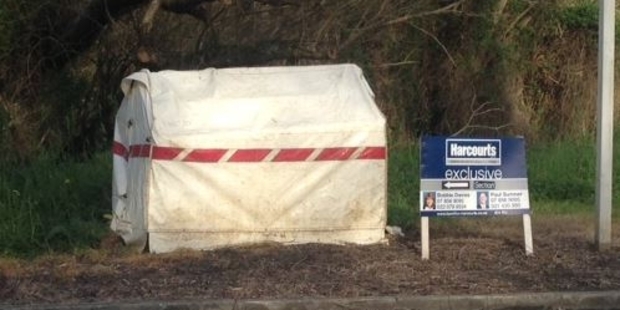 The property market is even more in tents than ever. Thanks Jolisa Gracewood (@nzdodo) for the swell caption.
Hide and Seek as a sport for Tokyo Olympics
Should Hide and Seek be an Olympic sport? Yasuo Hazaki thinks so and is lobbying for it to be part of the Tokyo Olympics. Professor Hazaki set up the Japan Hide-and-Seek promotion committee and has around 1000 members (many are university students). The committee has set formal rules for competitive hide-and-seek, pitting two teams of seven players against each other in a 10-minute match. In the first five-minute half, one team is given two minutes to hide on a "pitch" that measures 20m x 20m. The opposing team then has to locate and touch the hiding players. Successful players generally have the ability to run very fast at the start of the game to put some distance between themselves and the seekers, he says. "Being able to identify a good hiding spot is obviously critical, as well as being able to keep very still. That becomes more difficult if the pitch has a lot of mosquitoes or other insects." (Source: Telegraph.co.uk)
Straight or gay, what do you say?
A reader comments: "Sadly, when someone says, 'your sexual orientation does not define you', it suddenly does, just ask Grant Robertson. If it indeed didn't define you, then why bring it up? I've never felt a need to define myself as a one-legged, Maori, male heterosexual."
Another reader replies: "Because if you don't bring it up then everyone assumes you're straight and asks 'why don't you have a girlfriend' and you can't introduce the person you're in love with to people, unless you bring up the fact that you're into guys not girls, life becomes a little difficult ... Tell me this, if everyone assumed you were gay would you not inform them that you're actually straight?"
Missing chainsaw found
If you were a contractor driving through New Lynn about 1.20pm on Monday and found your Stihl chainsaw was missing from a locker on the ute, have faith - a kind citizen has handed it in to the New Lynn police station. He saw the chainsaw fall out at the intersection of Clark St and Great North Rd. If you would like to claim the chainsaw, please ring Warren Strand at the New Lynn Police station on (09) 826-2454.
Love letters from 90 years ago
A reader writes: "I have 30 old love letters addressed to Mr C.J. Bagley in Napier, dated 1920. His name is Cedric and they are from his wife-to-be Grace, who was a trainee school teacher at college in Wellington while Cedric was teaching at Napier Boys High School. They are something to treasure for a family interested in their history. If you are relatives and would like the letters, I can be contacted at cmkeeling@xtra.co.nz"
Keeping in Unreal: You have probably heard of house dressing, a service which de-clutters your home of all the real stuff and fills it with beige furnishings and oversized flower arrangements to give it that sterile saleable look... Now this Massey vendor has gone a step further, recreated a family scene in each room of the house, going as far as using a fake baby...
Good read: Great way to interview someone like Neil Finn - get Twitter to ask him the questions and see what he comes back with...
Kiwi hospitality: Two new eateries have opened in San Diego with a Kiwi theme, bringing the total to four. Raglan Public House (which includes dishes called Kiwi 3some and Chick On A Stick) and with similar fare The Queenstown Public House.
Video: This parody infomercial is made by in St. Louis for their local cat adoption charity...
Got a Sideswipe? Send your pictures, links and anecdotes to Ana at ana.samways@nzherald.co.nz