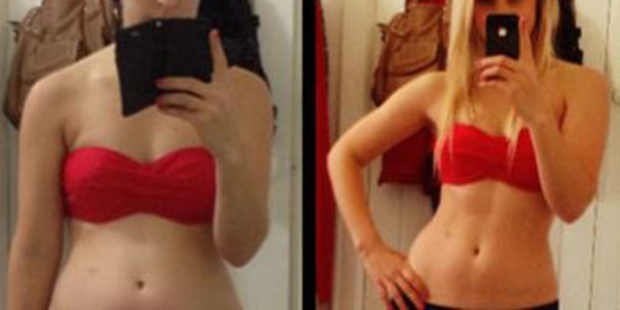 Before and after photo trickery
Australian personal trainer and owner of MelVFitness shows how those before and after weight loss pictures are just a manipulation. Here's how she says she did it: "Swapped my bather bottoms to black (they're bigger and black is slimming), put on fake tan, stood a bit taller, sucked in my guts, popped my hip, threw in a skinny arm, stood a bit wider, pulled my shoulders back and added a bit of a cheeky smile. Zoomed in on the before pic - zoomed out on the after. What's my point? Don't be deceived by what you see in magazines. Photoshop can make a pig look hotter then Beyonce."
Lazy dog owners creating a traffic hazard
Katrina is worried over the dog owners who exercise their pets in the Business Parade, Highbrook area by letting them run on the road behind the car. "There are numerous cars and heavy trucks speeding along this road, unaware of your dog. One day someone's beloved pet will pay the ultimate price for their owner's laziness. There was almost a three-car accident today because someone was exercising their dog this way."
Scalpers make big (legal) profits on Springsteen tickets
"Springsteen tickets sold out in a couple of hours on Monday," writes Gary. "Later that day people were selling them for about 10 times their value on Trade Me. I asked them what gives: 'We realise that there has been high demand for Bruce Springsteen tickets which are limited in supply. We have previously run a poll and asked the Trade Me community to vote on whether we should allow the on-sale of tickets - the result was an overwhelming yes, so we decided to continue to allow their sale ... Legally people are allowed to on-sell legitimate tickets, so we have always allowed them to be sold ...' So New Zealand says 'scalping' is legal and acceptable? What this means is every time you want to go to an event it will be sold out before you can purchase a ticket. You will then have to pay inflated prices to a 'scalper' in order to get one. I don't think this is acceptable."
Whiskey toe beats tequila worm in Yukon bar
There's a bar in Dawson City, Yukon, Canada that had, until recently, a preserved human toe. Since 1973, for a fee, drinkers could sip their whiskey from a glass containing the toe. On Saturday an American patron intentionally swallowed the toe. The bar owner said the rules included a $500 fine if the toe is ingested. He said the patron drank the cocktail, swallowed the toe, put the money on the table and left. "He just wanted bragging rights." But the bar still has a large supply of human toes, donated by people who have lost toes in accidents or through illness, or have stipulated in their wills that they want a toe or toes donated to the bar. (Source: The Globe and Mail)
Picture this #1: Now there's a daily deal I'd shell out for...
Picture this #2: If only the cow could read...
Different way of living: In some cultures it is better to be a man...Meet the Sworn virgins of Albania, who have spent their life as a man and a virgin...
Good read: In an interview in The Guardian, Jamie Oliver trots out the blinkered idea that if the poor can afford a big screen TV they can afford to eat well. But this rebuttal, by Johnny Void, is a fervent (and sweary) response to Oliver's oversimplified opinions, where it is noted that "a bucket of chicken and chips will feed a small family for the price of one of his ready meals."
Video: Drive the incredible Atlantic Road in Norway during a storm and this is what it'll be like...(Read more here)