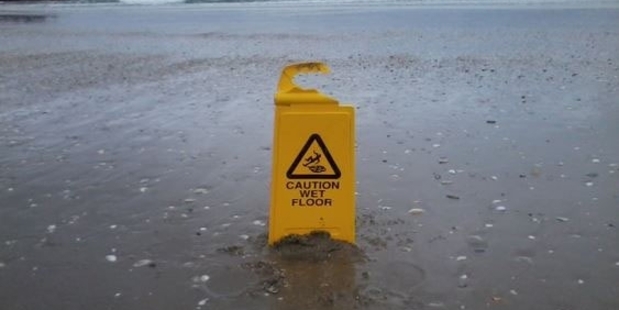 OSH on the job at Omaha Beach.
Buy on impulse, regret at leisure
1. I bought one of those over-priced helium-filled remote-controlled shark balloons. It took about 3 hours to assemble. I took it outside and it flew away.
2. At a Leonard Cohen concert I bought a Beautiful Losers shirt. Wore it once and someone asked me if it was an ad for a weight loss club.
3. A $2000 glass bowl on the island of Murano in Italy. They get you trapped there watching the beautiful glass being blown. Then before you know it the little token you bought and shipped back to the US cost $2000. Worst of all, they inscribed the name of the girl I was with on the bottom. We'd broken up by the time the bowl reached me. So brilliant me tried to melt off her name with my kitchen blowtorch. Boom - $2000 of shattered glass everywhere.
(Via Ask Reddit)
Getting it right
The ability to spot a minor grammatical error is proof that you are amazing, it has been confirmed. Researchers at the Institute for Studies found that people who loudly exclaim about apostrophes and "who versus whom" are actually better than everyone else. Professor Henry Brubaker said: "In no way are any of these people vain, arsey pedants. Grammar perfectionists are both intellectually and morally superior to other types of human. The way they selflessly dedicate themselves to correct punctuation, for example by pointing out to the staff of a chip shop why the term 'chip's' is a sloppy obfuscation, confirms they are bold and righteous individuals. If grammar people just learned to let things go sometimes, where would we be as a civilisation? Just fighting in mud, probably." (Source: The Daily Mash)
Service worth paying for
Carlene writes: "Fourteen years ago when my husband died suddenly during the night and I had called 111 the service was amazing. Because we lived in a rural district the Fire Service arrived first with resuscitator and then the ambulance arrived and tried for 40 minutes to revive my husband, sadly without success. An invoice did arrive about two weeks later but the nice note that accompanied it was very thoughtful. It said something like, 'we are very sorry the outcome was not positive and we are very sorry for your loss, herewith is the invoice for the call-out'. Which I was very happy to pay as the service was so quick and it is such peace of mind to know that St John are always there to call upon and only because we all get an invoice will they be there in the future for us."