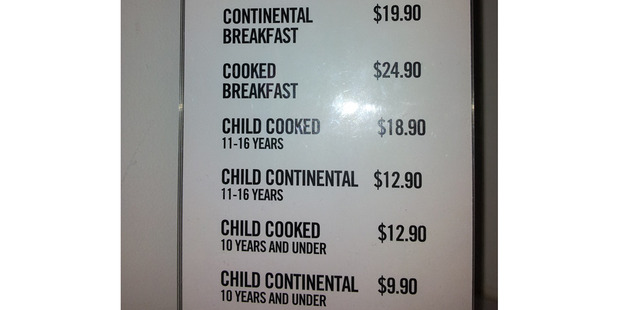 Spotted in a room menu at the Devon Hotel, New Plymouth, by Grant who quipped: "I like children but I couldn't eat a whole one".
Advance Australia unfair
An Australian reader was discussing the issue of asylum-seekers with his 11-year-old daughter, who pointed out that "within the full version of Advance Australia Fair, which her school sings every Friday at assembly, there are these two lines: 'For those who've come across the seas, We've boundless plains to share'." (Source: Column 8, Sydney Morning Herald)
Interesting, but useless facts
1. The Simpsons' fans will be fascinated to learn that there has actually been at least one person with the name "Seymour Butts". This Mr Butts died in 1865 and is buried in Butts Cemetery, West Laurens, Otsego County, New York, USA.
2. The TV show Jersey Shore is known in Japan as Macaroni Rascals.
3. That in The Wizard of Oz and White Christmas, along with many other films, the fake snow used was asbestos.
4. Robin Williams phoned and told jokes to Steven Spielberg every two weeks during the filming of Schindler's List to cheer him up.
(Via Reddit.com)
Humour police fail to see computer's funny side
A computer designed to tell witty one-liners has been criticised for being sexist and un-PC. Scientists at the University of Edinburgh created the software to tell one-line jokes using a simple set of rules in which a statement is followed up with an amusing punchline, such as "I like my coffee like I like my war ... cold''. But some lines have been criticised as being in bad taste including "I like my men like I like my acorns ... buried''. David Matthews, a computer scientist who helped develop the software, told The Telegraph that volunteers laughed at the computerised jokes, but accepted the software would need to "develop cultural awareness'' if the jokes were to improve.
Crash-test Lamborghini update
A reader writes: "Peak Rd residents are getting tired of car dealers and their rich boys using their road as a racetrack. The car pictured in Sideswipe earlier this week was travelling at speed back to the city in the south lane, failed to take a slight bend and finished as the photo shows across the road in the left lane facing North. It would be interesting to know if the Police who arrived issued any tickets. One good thing was that it must have been expensive for the car dealership, as the car had 'dealer' plates.
News: A Marmite advert in the UK has received 250 official complaints to the Advertising Standards Authority (ASA) since it launched on Monday night. The ad features a spoof rescue unit travelling around the UK, recovering "neglected" jars of Marmite that have been left at the back of cupboards. A spokesman for the ASA said complaints vary from the ad being in "poor taste" to being "deeply offensive" because it "trivialises" the work of both animal welfare charities and child protection agencies.
Picture this #1: Niche business.
Picture this #2: In this Mother/Daughter lookalike series of portraits the daughter dresses and poses identically to her mother - what a fresh, funny and original idea.
Video: A pilot helps his mate get over his fear of flying...
Got a Sideswipe? Send your pictures, links and anecdotes to Ana at ana.samways@nzherald.co.nz.