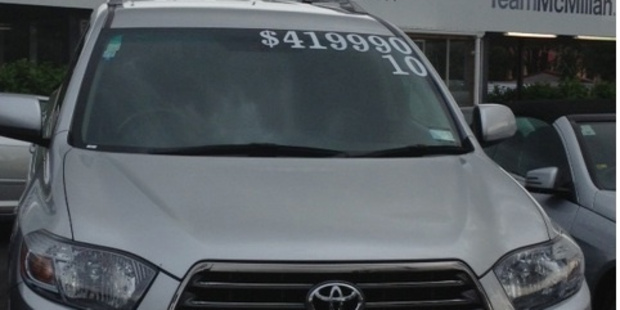 Check those match drinks
Tony Waring of Mt Albert writes: "At the last Warriors home game I was halfway through my first Lion Red when I decided it tasted a little funny. So I had a look at the best before date, and was surprised to see it was in two days time. I spoke to an obliging supervisor who offered to get me some replacements, but all the stock was similarly dated. I would advise fans going to Sunday's game to have a look at the date on the bottles before they buy. At $7.50 a bottle I think we are entitled to fresh stock, rather than last season's leftovers. As the man at my local liquor store said: 'another good reason to drink before you get to the game'."
Judge backs slow pedestrian
Australian police have tried to prosecute a man for crossing the street too slowly but withdrew the charges against James Claassen following robust criticism of their case by Adelaide Magistrate Sue O'Connor. "What is this heinous crime?" she said.
"Was he doing the cha cha? Cha cha cha-ing? One foot in, one foot out? Now that's an offence. No conga lines allowed in Adelaide? Geez, it's easy to get into trouble." Outside court, Mr Claassen said it felt "pretty amazing" to have the case finalised after more than a year. "I think most people have been in the situation where they get a fine and just pay it. It relates to a lot of people." (Source: PerthNow.com)
Why tripod was banned
Tripod prevention on Birkenhead Wharf: "I rather suspect the security fellow was over-exercising his authority and that he had no mandate to demand no tripod," theorises Bob Blair. "The obvious reason for no tripods at the Vatican is the sharp-pointed feet can cause damage to the flooring as well as scratching the marble. This is hardly a problem on a concrete wharf." Auckland Transport says they have no restriction on photography unless the person is risking safety in a controlled area and asked their security firm for an explanation, which goes like this ... "The guard says one of the members of a group of three climbed over a gate into a secure area within the terminal complex where we are doing some construction work. Another member of the party began handing over a tripod across the fence to the first one, the guard seeing this stepped in and told them it was a closed area."
Karrie writes: "One vehicle per green. Each lane. There are four green lights in total (two each side). Does this mean four cars at a time? We usually see just two cars going at a time. Hmmm ..."
Gif Goodness: Imagine Gerry Brownlee roaring like a lion, and go...
Picture this: Elaborate Russian Mafia Tombstones...
Picture this: Cross section of bullets. Strangely fascinating...
Local: It may be the butt of many jokes but I Love The Tron is determined to show the cool side of Hamilton. Worth a look for any Aucklander who's considering moving south where they can afford to buy a house.
Video: John Lennon auditions for The Voice...
* Got a Sideswipe? Send your pictures, links and anecdotes to Ana here.