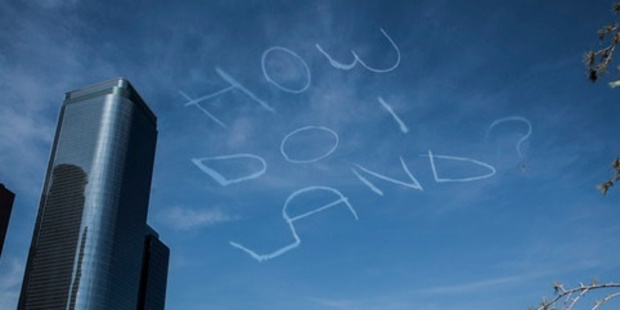 Ever more novel ways to miss work
Some bizarre reasons for missing work in the UK included: "A can of baked beans landed on my big toe", "My car handbrake broke and it rolled down the hill into a lamp-post" and "My dog has had a big fright and I don't want to leave him". One employee claimed to be in A&E with a peg stuck on their tongue and another said his mother had died (this was the second time he had used this excuse). "I am hallucinating", "I am stuck in my house because the door's broken" and "I've injured myself during sex" were also used to miss work. Many bosses scour social media to see whether the staff member is well enough to post updates. Certain excuses, such as vomiting bugs, viruses and abdominal pains, are more likely to be believed. (Source: The Daily Mail)
High-chair shenanigans exposed
A man in Cork, Ireland, stopped by a McDonald's and for some reason he sat in a high chair. When he couldn't get out, police were called and freed him.
Witnesses, who said alcohol was involved, managed to snap a picture that went viral. A spokesman for McDonald's remarked that anyone using a high chair in their restaurants should always have adult supervision.
Roadside retailer goes the extra distance
"Thanks Boric on SH16," says Sarah Ballance-Barter. "Not only do they grow a lot of their produce in their backyard, but they also offer you boxes or bags and to carry your purchases to your car - even on a rainy day. I declined, so the next great suggestion was 'Back up to the door and one of the staff will just put your groceries in the boot'. Fantastic service any day, but especially on a rainy one."
Want to share your funeral story?
Gail writes: "I am writing an e-book targeting baby boomers who have arranged their parents' funerals. Funerals are moving away from the traditional sombre services to positive, uplifting experiences that reflect the personality of the deceased and funeral directors are now becoming event planners. If there are any baby boomers who would like to share their funeral story for my book, please email me at here. I am especially interested in the ways they personalised the funeral."
Picture this: Horrendous childhood haircuts...
Strange products: To protect your car from hail ...
Video: A wonderful compilation of vintage footage of people who were over 100 years old in the 1920s and 1930s including Mr Skeets who married a 17-year old and a Russian shepherd who claims to be 150 years-old...
* Got a Sideswipe? Send your pictures, links and anecdotes to Ana here.