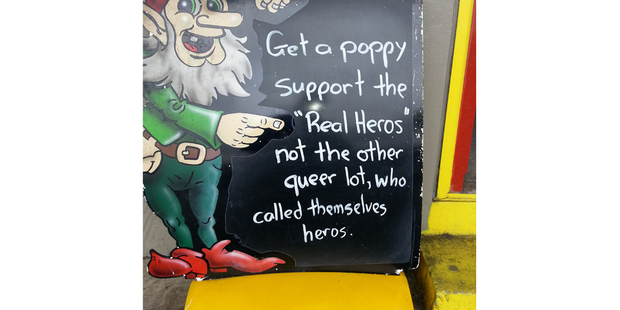 Customer is not always right
The customer is trying to use the touch screen credit card machine, but the attached pen is not working.
Me: "Sorry, sir, the pen is not working right now. It's a touch screen, so just use the pad of your finger."
Customer: "What? What the heck is a 'patio finger'?"
Me: "Pad. Of. Your. Finger."
Customer: "Oh! I thought it was some kind of young people slang." (Source: notalwaysright.com)
Cynical manufacturing
A clothing manufacturer in Colombia has begun exporting bullet-proof clothing for children - primarily for a US market. Production began just three weeks after the shootings at Sandy Hook Elementary in Connecticut. In his factory in Bogota, Miguel Caballero, who specialises in the manufacture of protection equipment for high-risk situations, now makes bullet-proof vests and backpacks in children's sizes and colours, which he has tested with machineguns and handguns to show they can withstand a barrage of bullets.
Caballero claims they got emails from parents in the US asking for this type of product. (Source: The Daily Telegraph)
Play Auckland Monopoly
Auckland is to get its very own game of Monopoly, so Twitter users come up with some tongue-in-cheek cards:
1. You went to Auckland Grammar. Collect a hearty slap on the back and a high paying job.
2. You have been assessed for leaky building repairs on all your properties. Miss a turn.
3. You are served a full-fat latte instead of a trim flat white. Go directly to jail for barista battery.
4. The Auckland Council Unitary Plan comes into effect, build five mass-housing complexes (hotels).
5. Government funding for your son's private school goes up 40 per cent. Buy him a Beamer so he doesn't have to catch loser cruiser.
6. The communists have sabotaged the value of your electric company shares. Sell one of your houses.
7. Advance to Ponsonby Rd. Pay the owner eight times the rent shown on the deed card.
8. Steven Joyce builds a new motorway to your holiday home. Roll again.
9. You roll three doubles. Do not go to jail. Go straight to Sky City. You're on a roll.
10. Go directly to Australia. Do not pass go. Do not pay off your student loan.
Men can be so hard to buy for ... so here's a head-up.
Picture this: Frightening ceramics...(the first one looks like Paul Henry dontcha think?
Video: A nifty comparison of how much of common grocery items you can buy for $5 in different countries.
Social Media: Big brother a bit of a meanie...
Picture this: Gangly photo bomb...
Video: Road rage revenge...

* Got a Sideswipe? Send your pictures, links and anecdotes to Ana here.