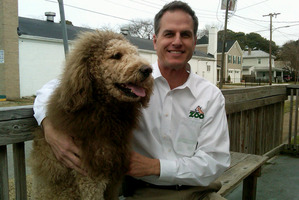 Daniel Painter, who sculpted his dog's hair to make it look like a lion, sparked fears of a big cat on the loose in Norfolk, Virginia. Police checked that all Virginia Zoo's lions were accounted for before launching an investigation. But panic was replaced by laughter when the "big cat" was found to be local celebrity labradoodle Charles the Monarch.
Hanging loose in Motueka
Jenny Blacklock of Motueka is still chuckling: "A few nights ago, at the end of a busy working day, we had a last-minute and urgent delivery that we had forgotten. My husband had been in the shower and was ready to sit down and have a beer before dinner when I suggested it would be better for him to drive and for me to be the 'run and deliver' person. At this time of the year after a hot day, he always dons his Rarotonga 'man skirt' (sarong ) after his shower. "It is just so cool," he explains. So off we went down a couple of normally busy streets and, to avoid a congested corner, we took a shortcut through another, tighter corner.
As we went round a battery sitting in the back of the car fell over ... He panicked and slammed to a halt as he didn't want the acid all through the car. Leaping out, he inadvertently hooked his 'man skirt' on the driver's door and off it came! Did I mention he liked to go commando? Clad only in a T-shirt with everything else swinging in the breeze ... luckily it wasn't the middle of the day when the streets of Motueka are populated with shoppers."
Who's taking who for a ride?
Geoff Fischer reckons this is not on: "The Auckland Transport brochure 'Fair for Everyone' says on one side, 'You will be charged $10.80 if you travel by train without a valid ticket' and on the other 'Your 10-trip ticket will no longer be valid from January 1, 2013'. Veolia has snatched tens of thousands of dollars from Aucklanders' wallets. I got $12.80 back after 10 minutes talking loudly to Veolia staff, and suggest others do likewise."
More stumbles than sexy fumbles in the jungle
Chris writes: "I was posted to East Timor this time last year in a senior position with the NZ Army. While reading a report from the medical officer I was startled to see an alarmingly high number of STIs being reported by soldiers. I raised this delicate matter with the Aussie doctor who reassured me, with a wry smile, STI stood for "soft tissue injury" not "sexually transmitted infection".
Satire: The inexplicable increase in gun sales following mass shootings in the US is perfect fodder for the The Onion...
Local: How adorable is this Trade Me auction? Maybe we could all help this kid out...
Picture this: Sydney Harbour without water.
Video: Three ways to melt a chocolate bunny...Strangely mesmerising.