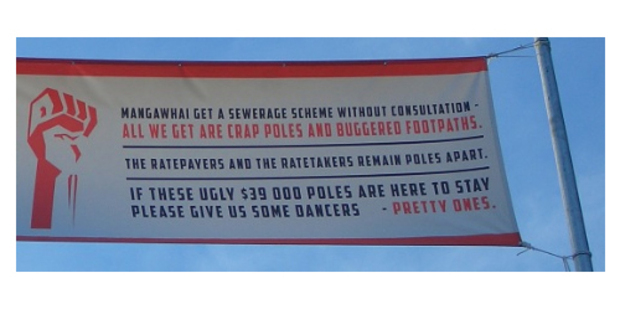 Council's $39,000 poles get more use
A reader writes: "A year ago you included in Sideswipe a photo of a banner that was erected at Langs Cove (Waipu) to protest the spending of $39,000 of ratepayer funds on erecting three poles with small 'flags' attached. It was to promote the Rugby World Cup but was not finished until after the event was over. The day after your column with photo was published some workmen from Whangarei District Council duly arrived and removed the protest banner. Several weeks ago a similar banner reappeared on the poles (at cherry picker height) and have been providing much amusement to local residents and holiday-makers alike."

Unwanted side effect of Christmas
"Unwrapping so many gift leaves so much packaging. What do people do with all their polystyrene? Or is it all just sent to the tip, little bit by little bit each week?"

Air Movement Device much cooler
A reader writes: "Acronyms have been widely used in the IT industry for more than 30 years. One that always amused me was AMD, used in IBM technical manuals. So what does AMD mean? Air Movement Device. Yes, someone at IBM came up with a three letter acronym for a fan!"

Big outlay to dazzle the ladies
Datta Phuge of Pimpri-Chinchwad, India, spent £14,000 ($27,000) on a custom-made gold shirt to impress the ladies. The shirt is woven through with 24-carat gold thread and the buttons are Swarovski crystals. "I know I am not the best looking man in the world but surely no woman could fail to be dazzled by this shirt." he said. (Source: Neatorama.com)

Teen fights for her name
Fifteen-year-old Blaer Bjarkardottir is suing Iceland for the right to use her given name, which means "light breeze". The country has replaced her name with "Stulka" (girl) on all her official documents, because "Blaer" is not listed on the country's Personal Names Register, or a list of 1712 male and 1853 female names that Icelandic officials believe "will protect children from embarrassment". (Source: Yahoo.com)

Advice for Trevor of Half Moon Bay
"Just what is he doing wearing reading glasses when driving?" asks one alarmed reader from Mt Roskill. "Reading glasses are designed for short-distance vision improvement. Maybe Trevor can read the speedo on the dash better wearing his reading glasses and so avoid speeding tickets yet not see clearly where he is going." Another reader reckons Trevor should try Fitovers. "Sunglasses made to fit over spectacles with top and sidepieces that disguise there are spectacles worn underneath."

Enviro-mental: A new year calls for a fresh calendar...How about this one?
"To promote composting and, more specifically, the natural recycling of human waste, the Fertile Earth Foundation has put together a calendar featuring scantily clad women frolicking in excrement, sitting on the toilet, and posing seductively with toilet paper."

Picture this: I've always had a thing for beards (not the long furry hipster ones riffing on the Hasidic Jew tradition, but the trim salt n pepper style - dead sexy and mysterious - in a sea captain kinda way!) and after looking at this photographic series (100 Beards in 100 Days) you might very well consider growing one (or encouraging one to be grown for you).

Video: 53 Terrible Jokes (includes plenty of groaners, but also some original riffs on classic gags - " Q: Why was six afraid of seven? A: Because seven had cold, dead eyes)

Got a Sideswipe? Send your pictures, links and anecdotes to Ana at ana.samways@nzherald.co.nz