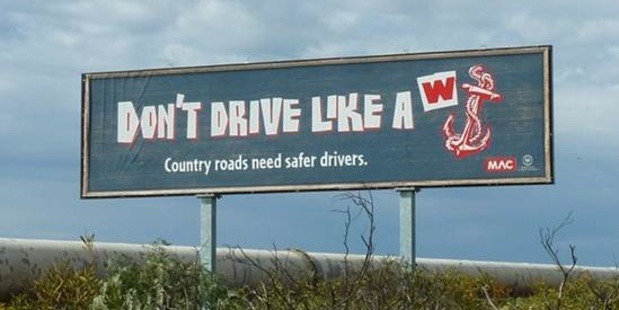 Some country plain speaking gets the point across.
Customer service the Kiwi way ...
"New Zealand is the only country I know of which only works an 11- month economic year, because of most businesses being closed for a month over Christmas ... it's ridiculous!" writes a reader. "My brother in the US works in an office that was shut for a single day - the 25th. My offices in the UK and Germany (before moving here) were shut for 25 and 26 only. No business in those countries would want to be shut - customers are there all year round. Only New Zealand thinks the business owners come ahead of the customers. I was shopping locally on the last Saturday before Christmas and was with a friend who was making a choice in a shop. The assistant actually said, at midday ... 'I wish you would just make up your mind so I can close and go home.' Seriously, these businesses would be bankrupt anywhere else."
Student puts brakes on stalking parents
A 21-year-old theatre student, Aubrey Ireland, had to get a civil stalking restraining order against her parents after she discovered they'd installed monitoring software on her computer and phone. "My mum has always been very overly involved," Ireland said. "I would have to get on Skype all the time to show them that I was in my dorm room, or there were nights I had to leave my Skype on all night and my mum would watch me basically sleep." (Source: ABC Good Morning)
Listen to grandma, she knows a thing or two
Bernard of Gisborne writes: "I was walking along the 'moving walkway' at Sydney Airport a few years ago. In front of me was an elderly lady, probably in her 80s, with a walking stick. In front of her were two young girls, probably 16, 17 or somewhere in that area. They both had mini-skirts on and every 30 seconds or so grabbed the hem and pulled the skirts down fractionally. After doing this a few times the old lady prodded one with her walking stick and said: "If you don't want them to see your a***, girly, wear a longer skirt." A number of people around her at the time burst out laughing - including me. Never let age make you scared to express your opinion.
From Christmas to Easter in two rings of the till
Anna Read couldn't believe what she was seeing ... "Easter Eggs in a Hamilton Warehouse! It only seems a few days since Christmas ... Hang on. It IS only a few days since Christmas. Good grief."
Media: I did not need to know this...
Blooper reel goodness: An hilarious compilation of US local news clips ...
Picture this: The best pictures of the year as curated by the fabulously named Twisted Sifter (Look out for One Boat And145 Water-skiiers)
Classic clip: Two years ago these four kiwi blokes pull off this impressive hula hoop stunt in their backyard... A round of high fives, well deserved. Wonder if they could still do it?